December is here and we got the first snow of the season today! 🙂
For those of you celebrating, Christmas is just around the corner and buying presents is more difficult than ever. I only have a few things picked out so far and with the world still gripped by the pandemic, random shopping sprees aren't exactly a good idea. So I'll be doing a lot of online shopping and hope that postal workers get a nice bonus for all the extra work they'll be doing this year.
Quickie News
The Goodreads Choice Awards happened again, and it appears whoever adds the first batch of nominees is aware that these are by no means an award for the best books of the year. As several books were nominated that hadn't even come out yet, it's more obvious than ever that these awards are simply a measure of which authors have the widest reach and the biggest fanbase. Voting is now over and we'll soon know who won this pretty useless popularity contest that, for some reason, I follow every year even though I have a super low opinion of it…

line




line

Season 2 of The Witcher has paused filming due to several crewmembers being tested positive for Covid-19. I hope everyone has recovered by now and is doing well! We'll get the second season when we get it. After all, there are worse things than looking forward to Henry Cavill saying "Hmm" a lot.
Nalo Hopkinson was named a SFWA Grand Master and I couldn't be more thrilled. CONGRATULATIONS!!! Check out her books if you haven't and dive into her amazing worlds, inspired by Caribbean myth, featuring brilliant protagonists of Color, and telling innovative SF stories.
The NPR Book Concierge for 2020 is online. Go forth and use it and may your TBRs grow by about 300 books (as mine did).
Terry Pratchett's Amazing Maurice will be an animated movie
Okay, I'm a little biased here because The Amazing Maurice and His Educated Rodents is one of my favorite Discworld novels – one which stands quite well on its own, so if you haven't read Discworld, you can totally start with this YA entry!
Narrativia, the late Sir Terry's production company, announced that The Amazing Maurice will be a Sky Original movie, starring Hugh Laurie, Emilia Clarke, David Thewlis, Himesh Patel, Gemma Arterton and Hugh Bonneville. HOW COOL IS THAT?
Now, I'm not at all sure about the cat in this promotional picture (the face looks eerily human), but I honestly don't care much about the way the movie will look. If it brings me a fraction of the joy and entertainment the book did, then it will be a great movie indeed. Now all we have to do is wait until 2022. But then, we're all pretty good at waiting by now, aren't we.
The Sword & Laser Podcast Pick for December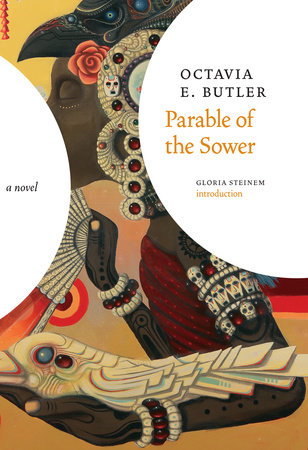 I am a longtime listener of the Sword & Laser podcast and whenever I feel like it, I read along with their monthly book picks. The book for December is none other than Parable of the Sower by Octavia E. Butler, a book that was on my "last books to read this year list" anyway, so I'll be following the discussion on Goodreads.
If you also want to read more (or your first) Octavia Butler novel, this is a great way to do it. Tom and Veronica usually kick off the book discussion spoiler-free and then discuss the ending in a second episode. Our favorite mispronouncing host Veronica won't be there for a while because she is having a baby, but Tom promised some amazing co-hosts and I can't wait to hear what they think about this book.
Exciting December Publications
KACEN CALLENDER – KING OF THE RISING
The sequel to the World Fantasy Award winning Queen of the Conquered is coming! I can't say that the first book was a happy read because it deals with very dark themes and complex, multi-faceted characters, but it was a damn good book. Naturally, I'll be reading the sequel which follows my favorite character from the first book.
The second novel in the Islands of Blood and Storm series set in a Caribbean-inspired fantasy world embattled by colonial oppression—perfect for fans of R.F. Kuang and Tasha Suri.

A revolution has swept through the islands of Hans Lollik and former slave Loren Jannik has been chosen to lead the survivors in a bid to free the islands forever. But the rebels are running out of food, weapons and options. And as the Fjern inch closer to reclaiming Hans Lollik with every battle, Loren is faced with a choice that could shift the course of the revolution in their favor-or doom it to failure.
---
SAM J. MILLER – THE BLADE BETWEEN
This took me very much by surprise. I only found out this book was coming out a few weeks ago but anything by Sam J. Miller automatically lands on my wishlist. I have loved The Art of Starving, as well as Blackfish City and Destroy All Monsters, so I'm sure I will enjoy this one too. Even though it sounds like the fantasy elements are more subtle.
From Nebula Award winner Sam J. Miller comes a frightening and uncanny ghost story about a rapidly changing city in upstate New York and the mysterious forces that threaten it.

Ronan Szepessy promised himself he'd never return to Hudson. The sleepy upstate town was no place for a restless gay photographer. But his father is ill and New York City's distractions have become too much for him. He hopes that a quick visit will help him recharge.

Ronan reconnects with two friends from high school: Dom, his first love, and Dom's wife, Attalah. The three former misfits mourn what their town has become—overrun by gentrifiers and corporate interests. With friends and neighbors getting evicted en masse and a mayoral election coming up, Ronan and Attalah craft a plan to rattle the newcomers and expose their true motives. But in doing so, they unleash something far more mysterious and uncontainable.

Hudson has a rich, proud history and, it turns out, the real estate developers aren't the only forces threatening its well-being: the spirits undergirding this once-thriving industrial town are enraged. Ronan's hijinks have overlapped with a bubbling up of hate and violence among friends and neighbors, and everything is spiraling out of control. Ronan must summon the very best of himself to shed his own demons and save the city he once loathed.
---
NGHI VO – WHEN THE TIGER CAME DOWN THE MOUNTAIN
If you haven't read the beautiful and highly original novella The Empress of Salt and Fortune, then do yourself a favor and go pick it up. And then join me in waiting for this sequel/companion novella which looks to also delve into history and the question of who gets to tell it.
"Dangerous, subtle, unexpected and familiar, angry and ferocious and hopeful. . . . The Empress of Salt and Fortune is a remarkable accomplishment of storytelling."—NPR

The cleric Chih finds themself and their companions at the mercy of a band of fierce tigers who ache with hunger. To stay alive until the mammoths can save them, Chih must unwind the intricate, layered story of the tiger and her scholar lover—a woman of courage, intelligence, and beauty—and discover how truth can survive becoming history.

Nghi Vo returns to the empire of Ahn and The Singing Hills Cycle in this mesmerizing, lush standalone follow-up to The Empress of Salt and Fortune
---
RAINBOW ROWELL – THE PRINCE AND THE TROLL
This represents an entire little series by Amazon publishing which takes fairy tales and spins them around – you all know that this kind of bait always works on me. Fairy tales retold are my Kryptonite. The five books/stories (?) in the Faraway series are definitely on my radar, especially The Cleaners by Ken Liu!
A charming everyman and a mysterious something-under-the-bridge cross paths in a short fairy tale by the #1 New York Times bestselling author of Eleanor & Park and the Simon Snow series.

It's fate when a man accidentally drops his phone off the bridge. It's fortune when it's retrieved by a friendly shape sloshing in the muck underneath. From that day forward, as they share a coffee every morning, an unlikely friendship blooms. Considering the reality for the man above, where life seems perfect, and that of the sharp-witted creature below, how forever after can a happy ending be?
---
DIANA PINGUICHA – A CURSE OF ROSES
I am a bit unsure about this one. It sounds very good. An #ownvoices story set in Portugal during a famine with a princess whose magical powers are anything but helpful and a forbidden lesbian romance. I should jump on that. But for some reason, I fear that the plot is already spelled out in the synopsis. You know, like when a movie shows you all the cool bits in the trailer and then there's very little left when you watch the whole thing. I may be totally wrong here, it's just a feeling I have. I'll wait for the first reviews and then decide whether to read it myself.
With just one touch, bread turns into roses. With just one bite, cheese turns into lilies.
There's a famine plaguing the land, and Princess Yzabel is wasting food simply by trying to eat. Before she can even swallow, her magic—her curse—has turned her meal into a bouquet. She's on the verge of starving, which only reminds her that the people of Portugal have been enduring the same pain.
If only it were possible to reverse her magic. Then she could turn flowers…into food.
Fatyan, a beautiful Enchanted Moura, is the only one who can help. But she is trapped by magical binds. She can teach Yzabel how to control her curse—if Yzabel sets her free with a kiss.
As the King of Portugal's betrothed, Yzabel would be committing treason, but what good is a king if his country has starved to death?
With just one kiss, Fatyan is set free. And with just one kiss, Yzabel is yearning for more.
She'd sought out Fatyan to help her save the people. Now, loving her could mean Yzabel's destruction.
Based on Portuguese legend, this #OwnVoices historical fantasy is an epic tale of mystery, magic, and making the impossible choice between love and duty…
---
SABAA TAHIR – A SKY BEYOND THE STORM
I still haven't caught up on this series (I've read the first two books) and I'm honestly not sure if I will. The second book was pretty disappointing, compared to the emotional thrill ride that was An Ember in the Ashes. But for those of you following the series, the long-awaited finale is finally arriving. (Also, I didn't read the synopsis below for fear of spoilers. Depending on where you are in the series, you may want to skipt it too 🙂 )
Prepare for the jaw-dropping finale of Sabaa Tahir's beloved New York Times bestselling An Ember in the Ashes fantasy series, and discover: Who will survive the storm?

Picking up just a few months after A Reaper at the Gates left off…

The long-imprisoned jinn are on the attack, wreaking bloody havoc in villages and cities alike. But for the Nightbringer, vengeance on his human foes is just the beginning.
At his side, Commandant Keris Veturia declares herself Empress, and calls for the heads of any and all who defy her rule. At the top of the list? The Blood Shrike and her remaining family.

Laia of Serra, now allied with the Blood Shrike, struggles to recover from the loss of the two people most important to her. Determined to stop the approaching apocalypse, she throws herself into the destruction of the Nightbringer. In the process, she awakens an ancient power that could lead her to victory–or to an unimaginable doom.
And deep in the Waiting Place, the Soul Catcher seeks only to forget the life–and love–he left behind. Yet doing so means ignoring the trail of murder left by the Nightbringer and his jinn. To uphold his oath and protect the human world from the supernatural, the Soul Catcher must look beyond the borders of his own land. He must take on a mission that could save–or destroy–all that he knows.
---
News from the blog
In November, I was preoccupied with things other than reading. The month began with a terrorist attack on my city, Vienna (my family and friends weren't hurt). Then the US presidential elections happened so that was a week spent reading mostly news articles and Twitter but definitely no SFF books.
But I did find my way back into a reading routine and simply let my mood guide me to the next book. And my mood did a pretty good job!
What I read in October:
Diana Wynne Jones – Castle in the Air
charming – uplifting – feel good – lovely characters
John Lewis – March 1-3
eye-opening – chilling – hopeful – important
Robin Hobb – Fool's Fate
trilogy ending! – heartbreaking as always – brilliant characters
Alix E. Harrow – The Once and Future Witches
starts slowly/shallow – gains speed and depth – hits you in the feels by the end
Mary Doria Russell – The Sparrow
heartbreaking first contact – bad stuff happens to good people – found family – new favorite
Linden A. Lewis – The First Sister
great world building – three POVs – nonbinary character – amazing twists at the end
Tochi Onyebuchi – Riot Baby
sadly underwhelming – snippets of a story – focus on issues rather than characters/world-building
Currently reading:
V. E. Schwab – The Invisible Life of Addie Larue
Laini Taylor – Muse of Nightmares
I've done pretty well with all my yearly reading goals, but I'll use the month of December to catch up on whatever I feel I'm behind on. So many new publications that sound amazing are still unread on my Kobo, I have a ton of books by Black authors and Authors of Color, my fairy tale retellings are multiplying, and there are still so many unfinished book series on my shelves.
So I'll tackle some of those to be ready for next year, new reading challenges, and many new publications.
Until next year: Stay safe, stay kind, and keep reading. 🙂