Happy Holidays!
I'm spending time with family for the next few days (we've all been tested negative and been isolated for the past weeks, plus we have masks, so it'll be a very safe and very strange Christmas, but you know. We make the best of it). I have so many reviews to write as well as my favorite books of the year list to finish, but there's no way I can get that done before Christmas. So I'm leaving you with this loooong list of mostly great books and promise to catch up after 26th December. I hope you're all safe and healthy and I wish you wonderful holidays!
Entirely by accident, 2020 turned out to be the year where I finally continued and even finished (!) a bunch of book series I had started. By no means did I finish all the series I have ongoing, but a good chunk of them is now done and I cannot begin to tell you how satisfying it is to get to the end of a long, sprawling story that has been with you for years. Even if the ending didn't turn out the way I had hoped, it still left me with a feeling of accomplishment.
Now let me tell you about the series I finished (or caught up on) this year and whether they were worth it.
Finished
Bill Willingham and Mark Buckingham – FABLES
I finally did it! I finished Fables!!! Now, to be honest, this wasn't a series I ever intended to rush through. Some volumes were better than others but the overall quality was so good that it felt kind of nice to always have a few more volumes to look forward to. I've been reading the deluxe editions in increments, sometimes waiting for the next one to come out, then waiting for the right mood to strike. I have had the final three volumes on my shelf for some time now and all I needed to do to get to the very end was pick them up. Thanks to Covid-19 and the lockdown, I had a lot of time on my hands.
This story about fairy tale characters living secretly in our world, with politcal intrigues, crimes, a full-blown war, dark mysteries, curses, love stories, and everything else you can think of, is exactly the kind of thing I go for. At the beginning I would never have thought I'd come to care so much for random side characters or go out and actually buy all the books in the spin-off series about Jack of Fables… and yet I did. It was the idea that drew me in, but it was the characters that made me stay. There were definitely some weaker volumes but I can totally see myself re-reading the entire thing someday.
---
Laini Taylor – Daughter of Smoke and Bone
Technically, I still have the novella about side characters Mik and Zuzana to read, but I've finished the main trilogy after a rather rough start. I first read Daughter of Smoke and Bone years ago and didn't love it. In fact, I was rather pissed off by the tropes used and the sudden shift in story in that book. On a re-read, however, knowing what to expect, I ended up quite liking the book. Then I continued reading and the series sneakily stole my heart. Laini Taylor's wonderful ideas and world building are stunning – even if her fictional creatures are maybe a tad too beautiful. The way she wrote about this unwinnable war, about star-crossed lovers, about friendship and death and loyalty and loss… yeah, it worked for me. So much so that, immediately after finishing the second book, I went and devoured the third. Taylor also managed to stick the landing with the ending, delivering a satisfying finale that left me feeling content and mostly happy. I'm definitely still going to read that book about Mik and Zuzana though!
---
LAINI TAYLOR – STRANGE THE DREAMER
Look, I didn't expect anything else but I was still surprised at how much this duology touched me. It's not just Laini Taylor's exquisite language or her brilliant, faceted characters who are never all good or all bad, it's also the world building and the plot. Seriously, I can't find fault in these books and I'll probably re-read them many times to come.
Any lover of books or fairy tales, anyone who loves learning about different cultures, or who just likes reading about crazy original fantasy ideas will find something to enjoy in these books. Laszlo Strange is so easy to love and his story turns from rather small and intimate into a sprawling epic that I didn't see coming. I consider this some of the very best the fantasy genre has to offer!
---
Ursula K. LeGuin – The Earthsea Cycle
Books keep getting added to this series every time I check but for a while, at least, it was the Earthsea Quartet and that's the part I've finished. I still have two short story collections to read but I read all the novels in LeGuin's beloved fantasy series. This was also prompted by a re-read of A Wizard of Earthsea, a book I didn't adore either time I read it but one I appreciated much more when I read it the second time, simply because I was looking for different things and noticing different aspects of LeGuin's genius. When I got to the second book, The Tombs of Atuan, I finally understood why everyone loves this series so much. Man, did that book hit me in the feels! The third one was rather meh but I suspect I may like it more when I'm older and Tehanu, the one that got lots of award nominations and wins, was a thing of pure beauty. There is something special about the Earthsea books. Each is quite different from the previous one, in a way, and yet they all share common themes and LeGuin's way of conveying emotion almost without me noticing (I mean that in the best way possible).
Reading these books was definitely rewarding and gave me a lot of food for thought.
---
Mishell Baker – The Arcadia Project
This is the trilogy where my reading experience has led to a clear recommendation for you guys: Don't let years pass between books 2 and 3! I read the first and second books soon after they were published and that small-ish gap between them worked fine. But then I waited several years before picking up the third book and I had a hard time remembering everyone's name and station, who's currently fighting with whom, how exactly all the magic worked, etc.
That didn't keep me from enjoying Millie's story as she handles not only her Borderline Personality Disorder as well as being a double amputee, but also navigating a new workplace (with magic!), her attractive boss, trying to make friends with people who don't necessarily want to be her friend, and of course all sorts of fairy shenanigans. In terms of representation, this trilogy is amazing! Not only have I never read a story with so many diverse characters in terms of mental health, disabilities, LGBTQIA+, but the best thing is, they are all drawn with care, like real people – some likable, some not so much. These character's aren't their disabilities. They are all people, some of whom are gay, some transgender, some with mental health issues, some with physical disabilities, some with disabilities that aren't visible. Even if there hadn't been a kick-ass story about humans and fairies, this would be an important trilogy for our time.
---
Kieron Gillen and Jamie McKelvie – The Wicked + the Divine
I read this comic book series in its entirety (re-reading the first volume) for the Hugo Awards and again, re-reading made everything better. Giving books a second chance is definitely the way to go, because apparently my mood plays a large part in how much I enjoy a book. This series, while it has some slight ups and downs, was overall really fun and exciting.
A pantheon of gods is reborn into regular humans' bodies who then live like rockstars for two years, after which they will die. Except this time, they seem to die much quicker and it's not of "natural causes". There was so much to love here, starting with the art style which I found absolutely stunning. The story also grows bigger and bigger as you follow along. The characters become more fleshed out and I caught myself caring for some of them who I previously didn't even notice all that much. Overall, this was a great experience, all the more because it sticks the ending.
---
Brian K. Vaughan, Cliff Chiang, and Matt Wilson – Paper Girls
For this, I didn't re-read the first volume, which I had also read when the series first started. I liked the Stranger Things vibe but I remember that the story got a little too crazy for me at the end of the first book. As I continued, however, I was just fine with the amount of crazy. Time travel, LGBT romance, meeting your older selves, saving the world… yes please, give me more.
I don't quite know why, but although I enjoyed every single volume of this 6-volume series, none of the instalments ever got me really excited. It felt a bit like a great mash-up of things that had been done before, drawn quite beautifully, and told well. But not groundbreaking. So it was a solid series, I'm happy I read it, but I don't think I'll revisit it.
---

Robin Hobb – The Tawny Man Trilogy (Realm of the Elderlings)
I first read Assassin's Apprentice when I was 16 years old (I'm 34 now) and spent the following years devouring more and more of Hobb's books set in the Realm of the Elderlings. Except with the Tawny Man Trilogy, I kind of hit a slump. I read The Golden Fool in 2012, so it's been a LONG time. But Hobb wouldn't be Hobb if she didn't manage to immerse me in her world immediately and make me feel like no time has passed at all. I finally finished this third trilogy in her series of connected trilogies (plus one quartet). And although this trilogy is done, I will continue on with the larger series and see what's been happening down South with those Bingtowners and the people in the Rain Wilds. After all, nobody can make me cry like Robin Hobb and her stories have stayed with me throughout the years. I'm actually glad I still have more of them to look forward to.
---

N. K. Jemisin – The Broken Earth Trilogy
You guys, I know it's weird that I didn't gobble up these books right when they came out. The Fifth Season still is one of the most mind-blowing fantasy books I've ever read and I wish I could erase my memory of it just to experience it for the first time again! But it's exactly because it was so good that I waited a while before picking up The Obelisk Gate. And then I saved up The Stone Sky deliberately as a treat. Well, I think I've earned that treat by the end of 2020 and so, in December, I finally picked up the finale of this triple Hugo Award winning trilogy.

All caught up
Marjorie M. Liu and Sana Takeda – Monstress
This is the one series on this list that I don't plan to continue. I had read the first volume when it came out, liked it okay, but not enough to continue. The gorgeous art kept distracting me from the story and the aloof protagonist never managed to get me emotionally involved with her story. But as volume 4 was nominated for a Hugo Award this year, I caught up on the series and am left with the exact same feeling. Cool ideas, stunning artwork, but little emotional impact. I have to concede that this series is just not for me because as far as I can tell, neither writer nor artists are doing anything wrong. I see the appeal and I'm glad so many other people like it, but I don't feel like reading more of it.
If the next volume is nominated for a Hugo again, I'll read it but I won't go out and actively buy a copy for myself.
---
Brandon Sanderson – Mistborn
So, I had read (or rather listened to) all of the Mistborn books already. First era, second era, all done. But! There was still this little novella set during the first era told from a different perspective on my TBR. I finally picked this one up, not expecting too much from it. I should have known better. Sanderson always delivers, after all!
Plotwise, Secret History doesn't offer much that's new, but it was like a behind the scenes look that gives a bit more background information on the larger story and on the Cosmere as a whole. You don't need to read this to enjoy the Mistborn series but if you're into the Cosmere, you won't want to  miss it.
---
Brandon Sanderson – Skyward
Yeah, there's no question I'll always jump on the next book in this series as soon as it comes out. This YA sci-fi series is not Sanderson's best but I can't help but love it anyway. You'll get his trademark twists at the end, you get a cast of lovable characters, great side characters (M-Bot & Doomslug!) and you get an exciting plot that promises even bigger secrets to be revealed in the future.
I also loved how Sanderson has grown in terms of his characters. They still don't curse, ever, but in Starsight, we get characters who don't belong to a specific gender and that's not something I had expected from Sanderson. Way to go and please keep moving in that direction. People and aliens come in all different shapes, sizes, genders, with all kinds of abilities and disabilities. There will be two more volumes in this series so I don't expect it to be finished before 2023. Until then, we get the next Stormlight Archive book, so I'm not complaining.
---
Philip Pullman – The Book of Dust
I had heard mixed things about this follow-up trilogy to His Dark Materials. With La Belle Sauvage, Pullman convinced me that he could actually pull it off and The Secret Commonwealth was no different. We follow an adult Lyra whose relationship with her daemon Pan is rather fraught. Lots of exciting things happen, of course, but the heart of the story is Lyra and Pan's struggle to find back to each other emotionally.
Look, this isn't His Dark Materials and nothing can take away the greatness of that trilogy. Even if the story is very different, the writing style gives me major nostalgia and reminds me how I felt when I first discovered this world as a teenager. So it is a worthy successor and one I intend to follow until the end.
---


Benjanun Sriduangkaew – Her Pitiless Command
I was thrilled to find out that the book that had felt so much like a series opener was, in fact, a series opener. So I picked up Mirrorstrike soon after it came out. It wasn't as good as the first book, Winterglass, but then middle volumes rarely are. When the third volume comes out, I'll be right here waiting for it because the characters and world building are simply too good not to find out how it all ends. And let's not forget the absolutely stunning language with which Sriduangkaew tells this sort-of fairy tale retelling of The Snow Queen set in South East Asia.
---
Martha Wells – The Murderbot Diaires
I waited a bit before I picked up the first full-sized Murderbot novel, part five of the Murderbot Diaries. When I did pick it up, it was just as delightful as I had hoped. Murderbot simply has a way of stealing your heart with its hilarious narration and the way it deals with emotions (it would rather not). This series is a source of pure joy and I hope it continues for a long, long time – whether the next one is a novella or another novel, I don't even care. Just as long as I get more Murderbot and maybe even more ART. Despite all the action and the constant danger, I'd even call this a feelgood series.

Continued a bit
Emma Newman – Planetfall
So I actually only started this series this year but rather than do what I usually do (read book one, then wait forever before I pick up the next), I continued pretty soon after with the second book. Although very different in setting and story type, I was taken with both of these. And since the series is finished, I intend to read the other two books as well. And soon!
Planetfall tells a very interesting story set on a different planet where humans have settled. But things aren't exactly as they seem, the protagonist holds a highly intriguing secret (well, more than one actually) and things unravel from there.
In After Atlas we get a police procedural set on Earth, but a future Earth where society works a bit different from ours, and not exactly in a good way. I had so much fun reading both of these and I can't wait to discover where Emma Newman takes the story in the final two books.
---
Stephen King – The Dark Tower
I don't even remember when I started this series but I think I was still in school. So… very long ago. The first book wasn't really for me, the second took a while to get going but then I binged books 3 and 4 right after. Wolves of the Calla was the one that made me stall again. It was just too long, had too many side stories, and I was a bit burned out on Dark Tower stuff by then. Newly motivated to continue some series, I picked up Song of Susannah, read it in no time at all and, while not loving it, at least gained my excitement for Stephen King's writing back as well as the urge to finally finish this epic series. So far, I have managed to avoid spoilers about the ending (thank you, internet, for being so considerate and actually hiding spoilers about this series 🙂 ).
---
Seanan McGuire – Wayward Children
This series is so hit or miss for me I hadn't planned on continuing it. But it keeps getting nominated for the Hugo Awards and as a diligent voter, I had to pick up In an Absent Dream. It turns out, this was one of the good volumes and I really, really enjoyed it. In fact, I liked it so much that I'll continue with the next book even if it doesn't get an awards nomination. Considering how much I hated the third book, that's pretty high praise.
---
Seanan McGuire – October Daye
As strange as my relationship with McGuire's writing is, this is a series I really like so far. Granted, I've only read the first two books but they have both delivered exciting, action-packed tales with interesting fairy politics and a protagonist I can root for. I know nothing about the rest of the series (again, thank you, people who use spoiler tags!) but I'm hoping for a certain romantic pairing and to see more of some side characters I've grown to like.
I usually read hardly any Urban Fantasy so I'm glad I discovered a series I can follow along, knowing I'll get a quick read that will be fun and make me feel stuff. I think the Shakespeare quote titles are a bit pretentious and don't have much to do with the plot but I intend to stay with this series for the next few years. These books (so far) are excellent to get you out of a reading slump.
---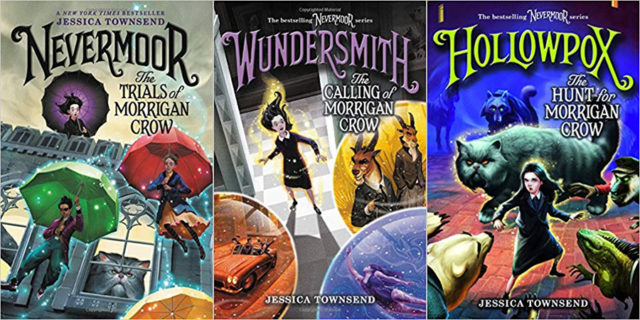 Jessica Townsend –
Nevermoor
I picked up the The Trials of Morrigan Crow during my holiday (which luckily fell into the time just before Covid-19 hit Europe and everything went into lockdown), then continued on with The Calling of Morrigan Crow in the Summer. I bought the third volume when it came out but haven't gotten to it just yet.
This is such a heartwarming, whimsical tale with the loveliest found family, great friendships and lots of cool ideas. The world of Nevermoor may be dangerous, but it's a cozy kind of dangerous if you know what I mean. Following Morrigan on new adventures feels a bit like coming home and the series was definitely worth it for all the warm and fuzzy feelings it gave me.
It's also nice to have a book series I can gift to the kids in my family that isn't you-know-what.
---
Sabaa Tahir – An Ember in the Ashes
I remember how the first book in this quartet had me at the edge of my seat THE ENTIRE TIME. Every chapter made my pulse go up because it was so damn exciting and I was so scared for the protagonist! I wanted more of that, but unfortunately, the second book was a big let down. There was a ridiculous, obvious, unnecessary love triangle, the plot was quite weak, and there were none of the tense scenes I enjoyed so much in book 1. I'll give the next book a chance but I'm not super eager to continue the series at this point. Depending on how well volume 3 does for me, I may just call it quits after that.
---
Marissa Meyer – Renegades
I was lukewarm about Meyer's sci-fi superhero series Renegades after reading the first book. Sure, it was fun and easy to read, but it felt a bit unstructured and convoluted. I did pick up the second book because Meyer is my guilty pleasure author and sometimes you just need a book that doesn't require too much brain power. I enjoyed it well enough, I liked how it fleshed out the world and finally delivered some moments I had been hoping for from the very start.
It's not great science fiction and not great literature either, but definitely great fun. After the second book, things are perfectly set up for a great climax, so it won't be too long before I finish the trilogy.
---
Andrzej Sapkowski – The Witcher
Like many people, I finally picked up the Witcher books because of the Netflix series and I'm not sorry. Not only did the picture of Henry Cavill in my mind greatly enhance the reading experience, but the books themselves also surprised me. My expectations were… let's say different. I thought tough manly Witcher man would run around slaying monsters. Instead I got a thoughtful exploration of who the real monsters are and a protagonist who, most of all, stands out because of his empathy! So far, I've read the two story collections that form the start of the series as well as the first novel. It wasn't as good as the collections but I'm still invested enough in this universe and its characters that I look forward to the rest of the series.
---
Jeff Smith – Bone
I have a big, chunky all-in-one volume of this series and finally started reading it late last year. This charming tale about three bone creatures trying to survive in a hostile world and find their way home to Boneville starts out so simply and then slowly grows in the telling. At first, it's this whimsical, cute story, but the more adventures the Bones go on, the bigger the world seems to get. We get mythology, strange creatures, lovable side characters, and a tale that grows up to be rather epic in scope.
I've read four out of the ten volumes so far and I'm glad there's more Bone to look forward to.
---

Diana Wynne Jones – The Land of Ingary/Howl's World
This loosely connected trilogy has languished on my TBR for too long. I read and loved Howl's Moving Castle many years ago but when it was picked for the Sword and Laser book club, I took that chance to finally continue the series instead of re-reading the first book. Diana Wynne Jones writes with such charm and ease that it's hard not to love her stories.
Humble carpet merchant Abdullah goes on an unexpected and rather wild adventure that was too delightful to describe here. Howl and Sophie do make an appearance, but this is clearly Abdullah's book. I can't wait to finish the trilogy next year. Whenever I need a book that feels like balm for my soul, I'll pick this up.

So this is it… I swear I didn't set out to do this at the beginning of the year. I planned on catching up on some series but I never thought I would get so far. It's been incredibly rewarding, especially when I was reminded again, after years of neglecting a series, how much I loved it in the first place and how great it was to return to that world.
I've also discovered that re-reads can do wonders. Books I didn't like the first time suddenly appeared in a new light or I appreciated things I simply missed before.
How are you handling your book series? Do you wait until it's finished and then binge it in one go? Do you catch up on the newest volume every year? Or are you like me, which is to say completely unorganized? 🙂