Ah, 2021. We had such high hopes for you. Of course we all knew, the pandemic wouldn't suddenly go away but progress has been… let's say sluggish, at least in my country. Well, at least my grandfather has been vaccinated already and the rest of my family is waiting their turn, doing the same stuff we've been doing for the last 10 months. Working from home whenever possible, wearing masks, barely going outside. At least there are books, right?
Quickie News
The Dunk and Egg novella prequels to A Song of Ice and Fire are in early development at HBO. I personally look forward to this much more than any other spinoffs because these novellas are really good and a fun, lighter addition to the world of Westeros.


line

Author Storm Constantine has passed away. She is best-known for her Wraeththu Chronicles, which begin with The Enchantments of Flesh and Spirit.


line

Mary Doria Russell's The Sparrow might be coming to FX. I've just recently read this book and it ripped my heart out. So I'm very much rooting for an adaptation, especially one written by Queen's Gambit showrunner Scott Frank!
Wheel of Time Concept art revealed
This reminds me that I should maybe finally start reading The Wheel of Time, something I've been planning to do for ever and somehow never managed. If you've somehow missed the news, Amazon is developing The Wheel of Time as a TV show and fans are rightfully excited.
Now, some concept art has been revealed that evokes the exact epic fantasy feelings I have been hoping for. Although I haven't yet read the series, I am super excited for the TV version. Now somebody please kick my ass into gear and make me read The Eye of the World.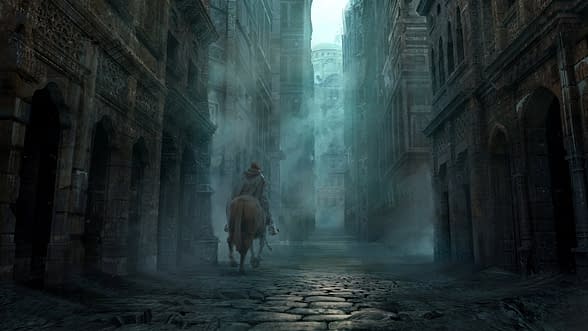 Shadow and Bone (Netflix) first look
We've got a first look at what the Grishaverse Netflix show will be like. So far, character posters and some stills have been revealed and no matter if you're part of the Grisha fandom or not, you have to admit that the costumes look fantastic!
I can't wait for April 23rd (my Netflix reminder has been set for weeks) to discover how the cast will tackle their roles as well as how the two storylines of the Grisha Trilogy and the Six of Crows duology will be intertwined. Maybe they'll do a Witcher and simply mix scenes set in different time periods, having the audience figure it all out. Or maybe they changed the plot so characters who never meet in the books do so in the show? I have no idea but I am excited!
Exciting February Publications
You guys, February is going to be awesome! There's a good mix of authors I already know and new-to-me authors but all of them have books coming out that tickle my interest. Also, this month's covers are pretty stunning, don't you think?
EVERINA MAXWELL – WINTER'S ORBIT
I am beyond excited for this space opera romance where a prince has to marry a guy to save the world (I guess) and then they fall in love. Marketing promises a trope-feast of the best kind and I cannot wait. Also, this is the UK cover because I like it more than the US version.
Ancillary Justice meets Red, White & Royal Blue in Everina Maxwell's exciting debut.

While the Iskat Empire has long dominated the system through treaties and political alliances, several planets, including Thea, have begun to chafe under Iskat's rule. When tragedy befalls Imperial Prince Taam, his Thean widower, Jainan, is rushed into an arranged marriage with Taam's cousin, the disreputable Kiem, in a bid to keep the rising hostilities between the two worlds under control.

But when it comes to light that Prince Taam's death may not have been an accident, and that Jainan himself may be a suspect, the unlikely pair must overcome their misgivings and learn to trust one another as they navigate the perils of the Iskat court, try to solve a murder, and prevent an interplanetary war… all while dealing with their growing feelings for each other.
---
T. L. HUCHU – THE LIBRARY OF THE DEAD
Edinburgh, ghosts, and a cynical teen. Need I say more?
Sixth Sense meets Stranger Things in T. L. Huchu's The Library of the Dead, a sharp contemporary fantasy following a precocious and cynical teen as she explores the shadowy magical underside of modern Edinburgh.

WHEN GHOSTS TALK SHE WILL LISTEN

Ropa dropped out of school to become a ghostalker – and they sure do love to talk. Now she speaks to Edinburgh's dead, carrying messages to those they left behind. A girl's gotta earn a living, and it seems harmless enough. Until, that is, the dead whisper that someone's bewitching children – leaving them husks, empty of joy and strength. It's on Ropa's patch, so she feels honor-bound to investigate. But what she learns will rock her world.

Ropa will dice with death as she calls on Zimbabwean magic and Scottish pragmatism to hunt down clues. And although underground Edinburgh hides a wealth of dark secrets, she also discovers an occult library, a magical mentor and some unexpected allies.

Yet as shadows lengthen, will the hunter become the hunted?
---
GENEVIEVE GORNICHEC – THE WITCH'S HEART
A witch falls in love with Loki and that's really all I need to know. But this also has a more literary feel to it, so maybe we'll get a Norse mythology version of what Madeline Miller does with Greek myths?
When a banished witch falls in love with the legendary trickster Loki, she risks the wrath of the gods in this moving, subversive debut novel that reimagines Norse mythology.

Angrboda's story begins where most witches' tales end: with a burning. A punishment from Odin for refusing to provide him with knowledge of the future, the fire leaves Angrboda injured and powerless, and she flees into the farthest reaches of a remote forest. There she is found by a man who reveals himself to be Loki, and her initial distrust of him transforms into a deep and abiding love.

Their union produces three unusual children, each with a secret destiny, who Angrboda is keen to raise at the edge of the world, safely hidden from Odin's all-seeing eye. But as Angrboda slowly recovers her prophetic powers, she learns that her blissful life—and possibly all of existence—is in danger.

With help from the fierce huntress Skadi, with whom she shares a growing bond, Angrboda must choose whether she'll accept the fate that she's foreseen for her beloved family…or rise to remake their future. From the most ancient of tales this novel forges a story of love, loss, and hope for the modern age.
---
NAMINA FORNA – THE GILDED ONES
I've had an ARC of this book for months which means I've been excited for just as long. As with a lot of YA books, I feel an underlying dread that it could be the same cheap old story in new clothing, but I am quite hopeful that this will turn out to be great. That cover is definitely a stunner!
Sixteen-year-old Deka lives in fear and anticipation of the blood ceremony that will determine whether she will become a member of her village. Already different from everyone else because of her unnatural intuition, Deka prays for red blood so she can finally feel like she belongs.

But on the day of the ceremony, her blood runs gold, the color of impurity–and Deka knows she will face a consequence worse than death.

Then a mysterious woman comes to her with a choice: stay in the village and submit to her fate, or leave to fight for the emperor in an army of girls just like her. They are called alaki–near-immortals with rare gifts. And they are the only ones who can stop the empire's greatest threat.

Knowing the dangers that lie ahead yet yearning for acceptance, Deka decides to leave the only life she's ever known. But as she journeys to the capital to train for the biggest battle of her life, she will discover that the great walled city holds many surprises. Nothing and no one are quite what they seem to be–not even Deka herself.
---
ALIETTE DE BODARD – FIREHEART TIGER
You can't really go wrong with Aliette de Bodard but when you mention The Goblin Emperor and Howl's Moving Castle in the blurb, just go ahead and take my money.
Award-winning author Aliette de Bodard returns with a powerful romantic fantasy that reads like The Goblin Emperor meets Howl's Moving Castle in a pre-colonial Vietnamese-esque world.

Fire burns bright and has a long memory….

Quiet, thoughtful princess Thanh was sent away as a hostage to the powerful faraway country of Ephteria as a child. Now she's returned to her mother's imperial court, haunted not only by memories of her first romance, but by worrying magical echoes of a fire that devastated Ephteria's royal palace.

Thanh's new role as a diplomat places her once again in the path of her first love, the powerful and magnetic Eldris of Ephteria, who knows exactly what she wants: romance from Thanh and much more from Thanh's home. Eldris won't take no for an answer, on either front. But the fire that burned down one palace is tempting Thanh with the possibility of making her own dangerous decisions.

Can Thanh find the freedom to shape her country's fate—and her own?
---
SARAH GAILEY – THE ECHO WIFE

I love Sarah Gailey's writing so much! They come up with new and interesting ideas, not least of them a husband cheating on his wife… with herself. I can't wait to see how Gailey tackles clones and murder and whatever else they've put into this book. This is one of my most anticipated releases of the year.
"When they said all happy families are alike, I don't think this is what they meant…"

Evelyn Caldwell's husband Nathan has been having an affair — with Evelyn Caldwell. Or, to be exact, with a genetically cloned replica.

After a morning that begins with a confrontation and ends with Nathan's body bleeding out on the kitchen floor, the two Caldwell wives will have to think fast—before sharing everything includes sharing a jail cell.

The Echo Wife is a non-stop thrill ride of lies, betrayal, and identity, perfect for fans of Big Little Lies and Killing Eve.
---
BECKY CHAMBERS – THE GALAXY AND THE GROUND WITHIN
February is good to us! Becky Chambers brings us a new Wayfarers novel so our need for cozy space opera, diverse characters, and a plot that doesn't rely on action or blood and murder will be filled. Plus, the trope of being stuck in a place with complete strangers that you slowly get to know better totally works for me.
With no water, no air, and no native life, the planet Gora is unremarkable. The only thing it has going for it is a chance proximity to more popular worlds, making it a decent stopover for ships traveling between the wormholes that keep the Galactic Commons connected. If deep space is a highway, Gora is just your average truck stop.

At the Five-Hop One-Stop, long-haul spacers can stretch their legs (if they have legs, that is), and get fuel, transit permits, and assorted supplies. The Five-Hop is run by an enterprising alien and her sometimes helpful child, who work hard to provide a little piece of home to everyone passing through.

When a freak technological failure halts all traffic to and from Gora, three strangers—all different species with different aims—are thrown together at the Five-Hop. Grounded, with nothing to do but wait, the trio—an exiled artist with an appointment to keep, a cargo runner at a personal crossroads, and a mysterious individual doing her best to help those on the fringes—are compelled to confront where they've been, where they might go, and what they are, or could be, to each other.
---
NICOLE LESPERANCE – THE WIDE STARLIGHT
This is my February wild card. I have no idea whether this book will be as great as I hope but magical Northern Lights, a mysteriously disappearing mother, and a journey through a Northern setting sounds too good to miss.
The Hazel Wood meets The Astonishing Color of After in this dreamy, atmospheric novel that follows sixteen-year-old Eli as she tries to remember what truly happened the night her mother disappeared off a glacier in Norway under the Northern Lights.

Never whistle at the Northern Lights, the story goes, or they'll sweep down from the sky and carry you away.
Sixteen-year-old Eline Davis knows it's true. She was there ten years ago, on a frozen fjord in Svalbard, Norway, the night her mother whistled at the lights and then vanished.

Now Eli lives an ordinary life with her dad on Cape Cod. But when the Northern Lights are visible over the Cape for just one night, she can't resist the possibility of seeing her mother again. So she whistles—and it works. Her mother appears, with snowy hair, frosty fingertips and a hazy story of where she's been all these years. And she doesn't return alone.

Along with Eli's mother's reappearance come strange, impossible things. Narwhals swimming in Cape Cod Bay, meteorites landing in Eli's yard, and three shadowy princesses with ominous messages. It's all too much, too fast, and Eli pushes her mother away. She disappears again—but this time, she leaves behind a note that will send Eli on a journey across continents, to the northern tip of the world:

Find me where I left you.
---
News from the blog
January was not great. It wasn't terrible either, but unfortunately I picked up some books that I had high expectations for and that I ended up disliking. On the other hand, I finished a trilogy, re-read an old favorite (still good) and liked one book more than I had expected.
What I read in January:
Stina Leicht – Persephone Station
unfocused – bland characters – terrible dialogue – cool ideas
Alechia Dow – The Sound of Stars
cheesy romance – half-assed world building – repetitive plot
Various Authors – Faraway
great twists on fairy tales – sometimes dark – good writing – Soman Chainani rocks!
Naomi Novik – A Deadly Education
slow start  – cool monsters – lots of open questions – shouldn't have liked it but somehow did
Holly Black – How the King of Elfhame Learned to Hate Stories
nice little addition to the Folk of the Air Trilogy – not groundbreaking but good – lovely illustrations
Marissa Meyer – Supernova
epic ending to the trilogy – loooong middle part – not my favorite but liked it
Michael Ende – The Neverending Story (re-read)
fantastic ideas – writing style felt kind of distant – still great after all these years
Currently reading:
Neil Gaiman – Sandman (full cast audiobook) (re-read)
John Crowley – Little, Big
Various Authors – From a Certain Point of View: The Empire Strikes Back
Nnedi Okorafor – Remote Control
I have two current reads that I consider longer projects. The Star Wars anthology is a chonker of a book and I'm not reading it all in one go. A few stories here or there is working well for me. That's particularly nice when I've had an exhausting day and just feel like reading a few pages of something. And thanks to the anthology I've already discovered some authors that I want to read more of.
Little, Big on the other hand is taking me longer because it's the kind of book you need to savor. It's not about the plot so much as about discovering what the hell is going on and just enjoying the ride. And let's not forget the language is beautiful and sometimes makes me linger and just admire how well Crowley can string a sentence together.
Until next month: Stay safe, stay kind, and keep reading. 🙂