2021 is moving along FAST and although I'm still waiting for my Covid vaccine (late March/early April sounds realistic at this point), at least SFF publishing is running smoothly again and promises many great books to come out this month.
The land of TV and movies isn't sleeping either and awards season is getting started as well.
Quickie News
It's Time for Hugo Award Nominations!

If you're a member of this year's WorldCon or were a member of last year's WorldCon, congratulations! You can nominated works for the Hugo Awards. And the time to start is now. You can nominate whatever works you liked the best and then come back later and add new ones or swap out others.
The nomination period will be open until Marth 19th.
I had a super hard time this year because, for the first time ever, I wanted to nominated more novels than is possible. In other categories I'm relying heavily on my fellow SFF fans to pick the best of last year. I haven't read many short stories or graphic novels but I'm sure the shortlist will lead me to all the good stuff I've missed.
Also, here's a reminder that Best Fancast is not only for podcasts but also works for other formats such as Youtube videos. I've nominated three podcasts and two Youtube channels this year and I hope that others are also trying to open up the category and include a wider variety of fancasts.
---
Baen's Bar controversy
I initially had this in the quickie news but, like many things that start small, this has grown a bit too large to talk about it in just a sentence or two.
It all began with Jason Sanford's report about Baen's Bar – an online forum for authors by the publisher Baen. From what I've learned so far, people on the Baen's Bar forum talked about the political climate in the US and some comments went beyond just expressing one's opinion, but actively incited or approved of violence.  File 770 has a good post here that rounds up comments and reactions. Wherever you may fall on the political spectrum and whatever you think about this particular report-turned-discussion-about-free-speech-versus-promoting-violence, I urge you to read more than the pieces I'm linking to here, and to make up your own mind.
In the last few weeks, things have escalated more and more. After being made aware of the accusations, Toni Weisskopf, editor and publisher of Baen Books, temporarily closed the forum and promised to investigate.
She was supposed to be Guest of Honor at this year's WorldCon but has since been uninvited. She is still welcome to attend the convention, of course, just not as Guest of Honor. Obviously, this has made some people upset, among them Larry Correia (remember, the original Sad Puppies guy).
Larry Correia reacted, as he usually does, with an overly dramatic post about cancel culture and how "The Left" is evil and simply can't appreciate one of the greatest women in publishing. I don't think very highly of Correia (I have no interest in his books, I disagree with him politically, and I think the way he writes his blog posts only tries to additionally divide an already divided society when we should all be doing the opposite) but I think it's important to listen to different opinions.
I have no idea how much further this topic will go until this post goes up but I will finally finish reading Sanford's report in its entirety and then see if anything can be learned of this latest SFF drama…
---
Shadow and Bone Trailer
Sorry for another Shadow and Bone update but the first proper trailer has arrived and it is making everyone EXCITED! Holy shit, the Shadow Fold looks good!
And the characters are perfect! Even though you see many of the them for just a second or two, you can tell how well they are cast. Inej has amazing "I'll kill you with one of my 100 knives" energy, Genya looks stunning, the Darkling is gorgeous and villainous-looking as he should be – that character is made of bad boy vibes – and both Kaz and Jesper are just like I imagined them. Alina also seems to be perfect. Her bewildered look in the few scenes we see in the trailer is exactly right. The only one I personally pictured differently was Mal, but hey, I'm not complaining. 🙂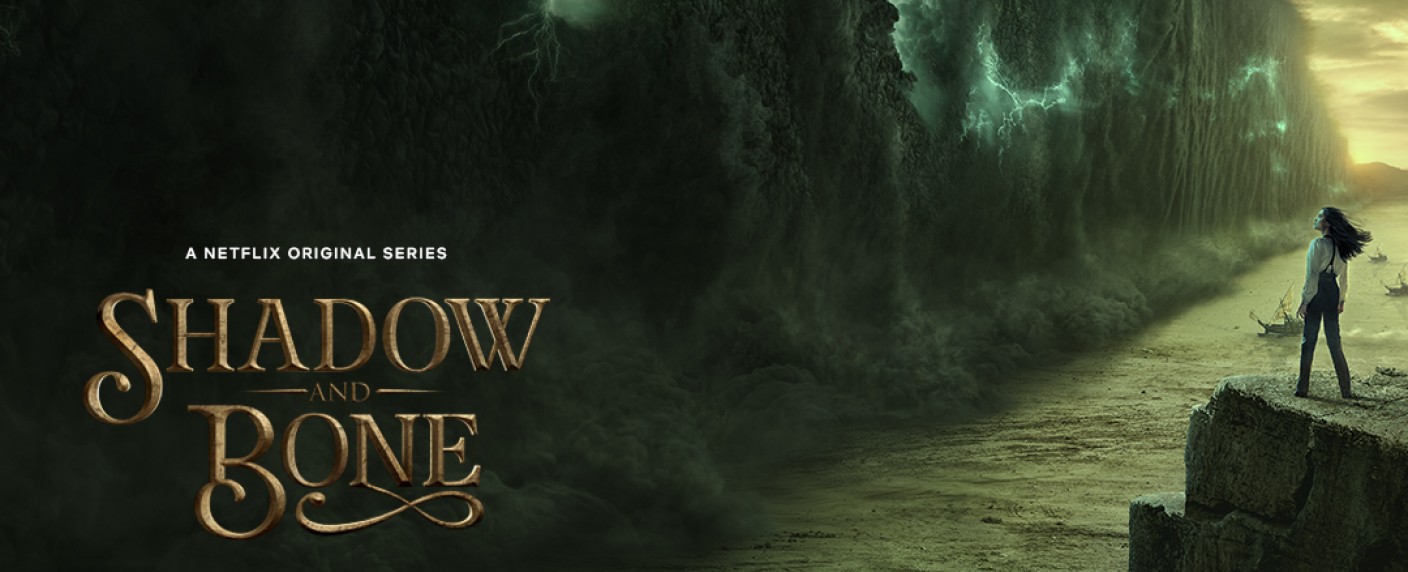 So yeah, I'm just as excited as the rest of the internet and can't wait for April 23rd when the show finally arrives. Even if you haven't set an alert on Netflix yet, I don't think anyone will miss the release day of this. Now we only have to hope it's as good as the trailer looks.
Exciting March Publications
February was a good month for SFF publications, so March stood up tall, fixed its crown and is striding along confidently, showing us that it can do even better! At this point, my TBR is so ridiculously high that adding ten-ish more books in March won't make much of a difference anyway.
ARKADY MARTINE – A DESOLATION CALLED PEACE

Probably many people's most anticipated release of the entire year, the sequel to the Hugo-winning and absolutely brilliant A Memory Called Empire is finally coming! I've been missing Mahit and Three Seagrass and I cannot wait to find out how this story continues. Political intrigue, cultural nuance, great characters, and – so Twitter tells me – a SPACE KITTEN!
An alien armada lurks on the edges of Teixcalaanli space. No one can communicate with it, no one can destroy it, and Fleet Captain Nine Hibiscus is running out of options.

In a desperate attempt at diplomacy with the mysterious invaders, the fleet captain has sent for a diplomatic envoy. Now Mahit Dzmare and Three Seagrass—still reeling from the recent upheaval in the Empire—face the impossible task of trying to communicate with a hostile entity.

Whether they succeed or fail could change the fate of Teixcalaan forever.
---
C. L. CLARK – THE UNBROKEN
The book with the magnificent biceps on it doesn't just look good, it also sounds fantastic and I have been looking forward to it for quite some time. A princess and a soldier reluctantly working together in a North-African inspired setting, plus assassins, epic stakes, and maybe a bit of romance? Yes, please.
Touraine is a soldier. Stolen as a child and raised to kill and die for the empire, her only loyalty is to her fellow conscripts. But now, her company has been sent back to her homeland to stop a rebellion, and the ties of blood may be stronger than she thought.

Luca needs a turncoat. Someone desperate enough to tiptoe the bayonet's edge between treason and orders. Someone who can sway the rebels toward peace, while Luca focuses on what really matters: getting her uncle off her throne.

Through assassinations and massacres, in bedrooms and war rooms, Touraine and Luca will haggle over the price of a nation. But some things aren't for sale.
---
KAZUO ISHIGURO – KLARA AND THE SUN

I adored both books by Ishigoro that I've read and I really like that a Nobel Prize-winning author decided to write more science fiction. Clearly, the wider world is accepting that the genre has way more to offer than spaceships and aliens (not that those aren't great).
Klara and the Sun is a magnificent new novel from the Nobel laureate Kazuo Ishiguro–author of Never Let Me Go and the Booker Prize-winning The Remains of the Day.

Klara and the Sun, the first novel by Kazuo Ishiguro since he was awarded the Nobel Prize in Literature, tells the story of Klara, an Artificial Friend with outstanding observational qualities, who, from her place in the store, watches carefully the behavior of those who come in to browse, and of those who pass on the street outside. She remains hopeful that a customer will soon choose her.

Klara and the Sun is a thrilling book that offers a look at our changing world through the eyes of an unforgettable narrator, and one that explores the fundamental question: what does it mean to love?
---
A. G. SLATTER – ALL THE MURMURING BONES

Angela Slatter, writing as A. G. Slatter here, is a hugely talented Australian author who isn't nearly known well enough. Her short story collections Sourdough and The Bitterwood Bible gave me All The Feels and I've been a diehard fan of hers ever since. This new fairy tale-esque book sounds amazing and I can't wait to let Slatter break my heart again.
For fans of Naomi Novik and Katharine Arden, a dark gothic fairy tale from award-winning author Angela Slatter.

'Harrowing and beautiful, this is the grim, fairy-tale gothic you've been waiting for'
CHRISTOPHER GOLDEN, New York Times bestselling author of Ararat

Long ago Miren O'Malley's family prospered due to a deal struck with the mer: safety for their ships in return for a child of each generation. But for many years the family have been unable to keep their side of the bargain and have fallen into decline. Miren's grandmother is determined to restore their glory, even at the price of Miren's freedom.

A spellbinding tale of dark family secrets, magic and witches, and creatures of myth and the sea; of strong women and the men who seek to control them.
---
LEIGH BARDUGO – RULE OF WOLVES

The Nikolai Duology comes to an end with this gorgeous-looking book. I liked King of Scars well enough but didn't love it. Of course I'll read the series conclusion but I hope it steps up its game a little.
The wolves are circling and a young king will face his greatest challenge in the explosive finale of the instant #1 New York Times-bestselling King of Scars Duology.

The Demon King. As Fjerda's massive army prepares to invade, Nikolai Lantsov will summon every bit of his ingenuity and charm—and even the monster within—to win this fight. But a dark threat looms that cannot be defeated by a young king's gift for the impossible.

The Stormwitch. Zoya Nazyalensky has lost too much to war. She saw her mentor die and her worst enemy resurrected, and she refuses to bury another friend. Now duty demands she embrace her powers to become the weapon her country needs. No matter the cost.

The Queen of Mourning. Deep undercover, Nina Zenik risks discovery and death as she wages war on Fjerda from inside its capital. But her desire for revenge may cost her country its chance at freedom and Nina the chance to heal her grieving heart.

King. General. Spy. Together they must find a way to forge a future in the darkness. Or watch a nation fall.
---
AIDEN THOMAS – LOST IN THE NEVER WOODS

From the author of Cemetery Boys (which I haven't read yet… can you tell my TBR is gigantic?) comes a fairy tale retelling of sorts that pushes all my buttons. Okay, just two of them, but they are big buttons. It's a Peter Pan retelling and it has a gorgeous cover. Look at the silhouette the trees are making – it's two faces! And the colors are so pretteeeeh!
When children go missing, people want answers. When children go missing in the small coastal town of Astoria, people look to Wendy for answers.

It's been five years since Wendy and her two brothers went missing the woods, but when the town's children start to disappear, the questions surrounding her brothers' mysterious circumstances are brought back into light. Attempting to flee her past, Wendy almost runs over an unconscious boy lying in the middle of the road, and gets pulled into the mystery haunting the town.

Peter, a boy she thought lived only in her stories, claims that if they don't do something, the missing children will meet the same fate as her brothers. In order to find them and rescue the missing kids, Wendy must confront what's waiting for her in the woods.
---
ANNA-MARIE MCLEMORE – THE MIRROR SEASON

March really likes me, I think. Another (probably loose) retelling of a fairy tale, The Snow Queen, with a very pretty cover indeed. I've been buying all of McLemore's books but – you guessed it – I haven't read any of them yet. This should really be a priority in 2021.
The Mirror Season sounds like it has so much to offer. A girl and boy dealing with trauma and grief, magical pan dulce, disappearing trees. I may just make this my first McLemore book.
When two teens discover that they were both sexually assaulted at the same party, they develop a cautious friendship through her family's possibly-magical pastelería, his secret forest of otherworldly trees, and the swallows returning to their hometown, in Anna-Marie McLemore's The Mirror Season…

Graciela Cristales' whole world changes after she and a boy she barely knows are assaulted at the same party. She loses her gift for making enchanted pan dulce. Neighborhood trees vanish overnight, while mirrored glass appears, bringing reckless magic with it. And Ciela is haunted by what happened to her, and what happened to the boy whose name she never learned.

But when the boy, Lock, shows up at Ciela's school, he has no memory of that night, and no clue that a single piece of mirrored glass is taking his life apart. Ciela decides to help him, which means hiding the truth about that night. Because Ciela knows who assaulted her, and him. And she knows that her survival, and his, depend on no one finding out what really happened.
---
GABRIELA HOUSTON – THE SECOND BELL

If, like me, you sometimes read fantasy novels and think that the monster's point of view would be much more interesting than the hero's POV, then this could be the book for you. The protagonist is a striga, a person with two hearts who is considered a demon, and the story seems to deal with a mother-daughter relationship.
In a world which believes her to be a monster, a young striga fights to harness the power of her second heart, while her mother sacrifices everything to stop her…

In an isolated mountain community, sometimes a child is born with two hearts. This child is called a striga and is considered a demon who must be abandoned on the edge of the forest. The child's mother must then decide to leave with her infant, or stay and try to forget.

Nineteen year-old striga, Salka, and her mother, Miriat, made the choice to leave and live a life of deprivation and squalor in an isolated village. The striga tribe share the human belief that to follow the impulses of their other hearts is dangerous, inviting unspoken horrors and bringing ruin onto them all.

Salka, a headstrong and independent young woman, finds herself in a life threatening situation that forces her to explore the depths of her true nature and test the bonds between mother and child…
---
KATE HOPE DAY – IN THE QUICK
I've only recently stumbled across this book (yet another cool cover!) and if it keeps what the blurb promises, this will be great! Bonding over scientific work, a mystery in space that needs to be solved, and two difficult characters who have to work together.
A young, ambitious female astronaut's life is upended by a fiery love affair that threatens the rescue of a lost crew in this brilliantly imagined novel in the tradition of Station Eleven and The Martian.

June is a brilliant but difficult girl with a gift for mechanical invention, who leaves home to begin a grueling astronaut training program. Six years later, she has gained a coveted post as an engineer on a space station, but is haunted by the mystery of Inquiry, a revolutionary spacecraft powered by her beloved late uncle's fuel cells. The spacecraft went missing when June was twelve years old, and while the rest of the world has forgotten them, June alone has evidence that makes her believe the crew is still alive.

She seeks out James, her uncle's former protégée, also brilliant, also difficult, who has been trying to discover why Inquiry's fuel cells failed. James and June forge an intense intellectual bond that becomes an electric attraction. But the love that develops between them as they work to solve the fuel cell's fatal flaw threatens to destroy everything they've worked so hard to create–and any chance of bringing the Inquiry crew home alive.

Equal parts gripping narrative of scientific discovery and charged love story, In the Quick is an exploration of the strengths and limits of human ability in the face of hardship and the costs of human ingenuity. At its beating heart are June and James, whose love for each other is eclipsed only by their drive to conquer the challenges of space travel.
---
News from the blog
My year didn't start great but February was already much kinder, reading-wise. I did get sick and had to stay home from work… well, I work from home anyway, but you know, stay at home without working, for over a week. That gave me plenty of time to read and even though I often didn't know what I was in the mood for, I ended up with some good books.
What I read:
Everina Maxwell – Winter's Orbit
fun romance in space – intriguing world building – slow middle part
Neil Gaiman, Dirk Maggs – The Sandman (Audible)
great voice acting – works surprisingly well on audio – cool world and cool stories
Star Wars – From a Certain Point of View: The Empire Strikes Back
anthology of 40 stories – some great, some not so much – nice for fans and to discover new authors
Andrea Stewart – The Bone Shard Daughter
fast-paced – cool world building – complex characters – leaves you eager for the next part
Susan Cooper – The Dark is Rising
disappointing – weak main character – hardly any plot – no conflict, no drive – nice writing
Nnedi Okorafor – Remote Control
highly interesting world building – great writing – plot a bit unfocused/unsure what it wants to achieve
Tasha Suri – Empire of Sand 
great world building – intricate characters – weaker middle-part – makes me want to read the companion novel NOW
Currently reading:
John Crowley – Little, Big
Joe Abercrombie – Last Argument of Kings
I'm still reading Little, Big and I'm still enjoying it. It is not a riveting read, there is very little plot to speak of and so my other books often take precedence. But none of them reach Crowley when it comes to atmosphere or pure strangeness.
I've also finally decided to finish the First Law Trilogy. I had forgotten how much I liked Abercrombie's writing and how fast I can read his books. 670 pages doesn't sound so intimidating when they're flying by. Unless he messed up completely on the ending, you can expect a very positive review soon. Also, Glokta is the best!
Until next month: Stay safe, stay kind, and keep reading. 🙂