Holy moly, this year is halfway over! I am back from a proper holiday and I almost can't believe it. We went to Barcelona (on a plane and everything!), saw a lot of this beautiful city, went to the beach, ate tons of delicious food, and of course I got a lot of reading done.
Quickie News
Pride Month may be over but I've discovered The Queer Science Fiction and Fantasy Book Database and want to share this resource with you. It helps you find LGBTQIA+ SFF books, you can search by identity, relationship, genre and age group, or you can just browse and see if something interests you. I found it quite helpful because often I just don't know that a book I have on my TBR has LGBTQIA+ representation in it and this database really helps.


line

The Hugo Voter Packet is here and it's pretty damn great! I was very happily surprised that some companies offered codes for the games nominated in the new Best Game category (I've since been playing Spiritfarer A LOT). While some publishers only offered excerpts of the nominated work (which is fine), others delivered entire series. Either way, there is huge amount of stuff to read, watch, or play. I am super impressed and have already started to work on the pile of material.


line

If you're one of the people who loved Graceling by Kristin Cashore, you're getting two treats this year. The fourth instalment of the series, Winterkeep, came out earlier in the year, and in November, we're getting a Graphic Novel version of the first book, adapted by Gareth Hinds. I am excited to see this underrated YA series come to life again through a different medium.
I will be eternally jealous of anyone who can participate in this pre-order campaign, but if you're in the US and you've pre-ordered The Past is Red by Catherynne M. Valente (and you really should!), then you can get a shiny enamel pin naming you 8th Best Daffodil. It will make perfect sense once you've read the book, trust me. I'll just sit here in little excluded Europe, pin-less but still looking forward to my paper copy of the book.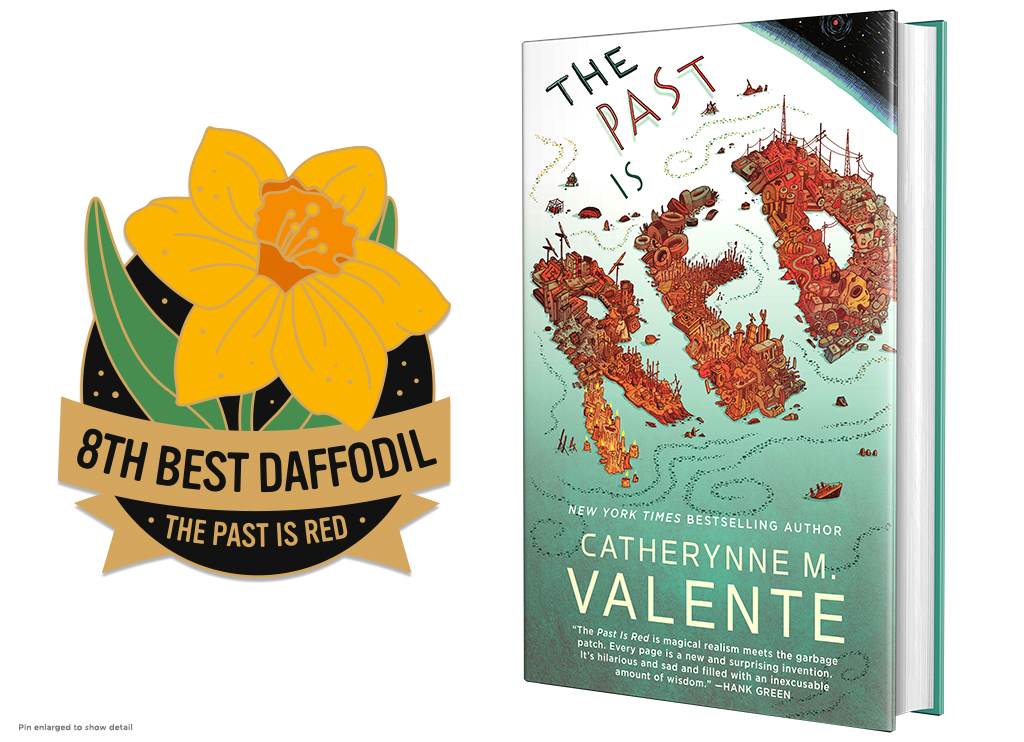 ---
The livestream happened at 2am in my time zone, so I am super proud that I managed to watch it the next morning without getting spoiled. There was much excitement and consequent squeeing in my house, I can tell you that. You can still watch the ceremony on Youtube.
Congratulations to all the winners!
As always, there are some categories I care about more than others and I am super stoked about the winners. First and foremost, my favorite novella of last year (and possibly ever) Ring Shout by P. Djèlí Clark won for Best Novella. The Andre Norton award for YA/MG fiction didn't go to my top choice Raybearer but instead to my second favorite A Wizard's Guide to Defensive Baking by the inimitable T. Kingfisher. Her speech was just as lovely and hilarious as her books are. Lastly, the Best Novel Nebula went to Network Effect by Martha Wells. While the competition was stiff, who can be mad at Murderbot taking home an award? That's right, nobody!
There is considerable overlap between the Nebula finalists and the Hugo finalists and so I am even more excited to catch up on the novels, novelettes, and short stories I haven't read yet.
---
Man, awards season is great and this year! I'm particularly happy and a little proud that I've read almost all the winners before they were announced!
Best Novel (Science Fiction, Fantasy, and Horror, respectively):
Martha Wells – Network Effect
N. K. Jemisin – The City We Became
Silvia Moreno Garcia – Mexican Gothic
YA Novel went to A Wizard's Guide to Defensive Baking by T. Kingfisher, First Novel to Elatsoe by Darcie Little Badger. I would have preferred to see Micaiah Johnson or Andrea Stewart win this one, but things could be worse.
Best Novella went to the amazeballs Ring Shout by P. Djèlí Clark, Best Novelette to "The Pill" by Meg Elison (I just read that for the Hugo Awards), and Best Short Story to "Little Free Library" by Naomi Kritzer which I also found really cute.
I am very happy about the works that have won. Congratulations to all the winners as well as the other finalists. It was an excellent year for SFF.
---
Poll: NPR's Top Fantasy and Sci-Fi Novels of the Last Decade
If you love lists, like me, you may be aware of NPR's Top 100 Fantasy and Sci-Fi Novels List from the year 2011. Well, they're doing another one and to make things better (and not be reminded that, yes, The Lord of the Rings is still everyone's favorite of all time) choices are limited to books published in the last 10 years. I have already voted, I am super excited for the results, and I hope you'll all go vote for your favorites a well.
Because I really need another list of books to read…
---
Exciting July Publications
July feels a bit quieter to me. There are novellas by Becky Chambers and Cat Valente coming up, a stuning-looking debut, and new fairy tale retellings. But while I'm interested in all these books, my excitement levels aren't as high as last month. Which is probably good because my TBR is making me nervous as it is.
BECKY CHAMBERS – A PSALM FOR THE WILD-BUILT (July 1st)
Now that Becky Chambers is done with the Wayfarers, she is treating us to a new novella series – with robots! Having a tea monk and a robot become friends is already enough to convince me but I'm sure there'll be a lot more to it than that.
In A Psalm for the Wild-Built, Hugo Award-winner Becky Chambers's delightful new Monk & Robot series gives us hope for the future.

It's been centuries since the robots of Panga gained self-awareness and laid down their tools; centuries since they wandered, en masse, into the wilderness, never to be seen again; centuries since they faded into myth and urban legend.

One day, the life of a tea monk is upended by the arrival of a robot, there to honor the old promise of checking in. The robot cannot go back until the question of "what do people need?" is answered.

But the answer to that question depends on who you ask, and how.

They're going to need to ask it a lot.

Becky Chambers's new series asks: in a world where people have what they want, does having more matter?
---
ELIZABETH LIM – SIX CRIMSON CRANES (July 6th)
I'm always up for a good fairy tale retelling! While I still haven't read the Elizabeth Lim book on my TBR, I do look forward to this Six Swans version a lot. And not just because the cover is gorgeous. Although it is. Really, really gorgeous.
Shiori, the only princess of Kiata, has a secret. Forbidden magic runs through her veins. Normally she conceals it well, but on the morning of her betrothal ceremony, Shiori loses control. At first, her mistake seems like a stroke of luck, forestalling the wedding she never wanted, but it also catches the attention of Raikama, her stepmother.

Raikama has dark magic of her own, and she banishes the young princess, turning her brothers into cranes, and warning Shiori that she must speak of it to no one: for with every word that escapes her lips, one of her brothers will die.

Penniless, voiceless, and alone, Shiori searches for her brothers, and, on her journey, uncovers a conspiracy to overtake the throne—a conspiracy more twisted and deceitful, more cunning and complex, than even Raikama's betrayal. Only Shiori can set the kingdom to rights, but to do so she must place her trust in the very boy she fought so hard not to marry. And she must embrace the magic she's been taught all her life to contain—no matter what it costs her.
---
NICHOLE KORNHER-STACE – JILLIAN VS PARASITE PLANET (July 13th)
I stumbled across this book on Tachyon Publication's homepage and I just couldn't scroll past that cover without checking it out. This looks and sounds like so much fun. A space adventure for Middle Grade kids feels like the perfect summer read, even if it has parasites in it. 🙂
Can an anxious eleven-year-old find her chill and save her family from creepy aliens? Only if she's the most awesome, super-brave astronaut since Spaceman Spiff! So take a deep breath, grab your sidekick, and blast off with Jillian to Parasite Planet.

Eleven-year-old Jillian hates surprises. Even fun ones make her feel all panicky inside. But, she's always dreamed of joining her space-explorer parents on a mission. It's Take Your Kid to Work Day, and Jillian finally has her chance to visit an alien world!

The journey to Planet 80 UMa c is supposed to be just a fun camping trip. But then the local wildlife starts acting really dangerous. Only the onboard computer SABRINA sorta knows what's happening—at least when it's not goofing off or telling bad jokes.

Looks like it's Jillian vs Parasite Planet—and Jillian is determined to win!
---
LUCINDA ROY – THE FREEDOM RACE (July 13th)
I am a little unsure whether I will like this book. After a civil war, slavery is somehow back… I do like the idea of a race, of people banding together to find out their own history, but I'm not quite sure what the speculative aspects of this book are going to be.
The Freedom Race, Lucinda Roy's explosive first foray into speculative fiction, is a poignant blend of subjugation, resistance, and hope.

In the aftermath of a cataclysmic civil war known as the Sequel, ideological divisions among the states have hardened. In the Homestead Territories, an alliance of plantation-inspired holdings, Black labor is imported from the Cradle, and Biracial "Muleseeds" are bred.

Raised in captivity on Planting 437, kitchen-seed Jellybean "Ji-ji" Lottermule knows there is only one way for her to escape. She must enter the annual Freedom Race as a runner.

Ji-ji and her friends must exhume a survival story rooted in the collective memory of a kidnapped people and conjure the voices of the dead to light their way home.
---
CATHERYNNE M. VALENTE – THE PAST IS RED (July 20th)
This is my favorite book of the year so far and its only flaw is that it could have been a big chunky novel but only wanted to be a novella. It's post climate change but somehow in a funny and hopeful way. Protagonist Tetley Abednego is the easiest to love, what with her eternal hopefulness, her way of looking at life positively, no matter how many curveballs it throws her. And there are some great twists. Just pick it up and if you like shiny covers, get yourself a hard copy because the cover and its small details are just stunning and actually relevant to the story.
Catherynne M. Valente, the bestselling and award-winning creator of Space Opera and The Girl Who Circumnavigated Fairyland returns with The Past is Red, the enchanting, dark, funny, angry story of a girl who made two terrible mistakes: she told the truth and she dared to love the world.

The future is blue. Endless blue…except for a few small places that float across the hot, drowned world left behind by long-gone fossil fuel-guzzlers. One of those patches is a magical place called Garbagetown.

Tetley Abednego is the most beloved girl in Garbagetown, but she's the only one who knows it. She's the only one who knows a lot of things: that Garbagetown is the most wonderful place in the world, that it's full of hope, that you can love someone and 66% hate them all at the same time.

But Earth is a terrible mess, hope is a fragile thing, and a lot of people are very angry with her. Then Tetley discovers a new friend, a terrible secret, and more to her world than she ever expected.
---
RACHEL VINCENT – RED WOLF (July 20th)
Is it mean if I say I don't expect to like this book? The author comparisons make alarm bells ring in my head and the synopsis sounds thin at best. So why am I listing it here? Well, it's a Red Riding Hood reimagining and I can't resist fairy tale retellings. Plus, I really like when my prejudices are shattered and I hope Rachel Vincent can do that.
This high stakes, pacey reimagining of Little Red Riding Hood is perfect for fans of Stephanie Garber and Megan Spooner.

For as long as sixteen-year-old Adele can remember the village of Oakvale has been surrounding by the dark woods—a forest filled with terrible monsters that light cannot penetrate. Like every person who grows up in Oakvale she has been told to steer clear of the woods unless absolutely necessary.

But unlike her neighbors in Oakvale, Adele has a very good reason for going into the woods. Adele is one of a long line of guardians, women who are able to change into wolves and who are tasked with the job of protecting their village while never letting any of the villagers know of their existence.

But when following her calling means abandoning the person she loves, the future she imagined for herself, and her values she must decide how far she is willing to go to keep her neighbors safe.
---
SHELLEY PARKER-CHAN – SHE WHO BECAME THE SUN (July 20th)
Here's one of my most highly anticipated novels of the year, and yes, the cover is to blame at least in part. But if you tell me it's "Mulan meets The Song of Achilles", I'll buy it even with a bad cover. I mean it just sounds super exciting. Girl pretending to be a a boy, high stakes, constant danger of being found out… yeah, I think I'll love this one.
Mulan meets The Song of Achilles in Shelley Parker-Chan's She Who Became the Sun, a bold, queer, and lyrical reimagining of the rise of the founding emperor of the Ming Dynasty from an amazing new voice in literary fantasy.

To possess the Mandate of Heaven, the female monk Zhu will do anything

"I refuse to be nothing…"

In a famine-stricken village on a dusty yellow plain, two children are given two fates. A boy, greatness. A girl, nothingness…

In 1345, China lies under harsh Mongol rule. For the starving peasants of the Central Plains, greatness is something found only in stories. When the Zhu family's eighth-born son, Zhu Chongba, is given a fate of greatness, everyone is mystified as to how it will come to pass. The fate of nothingness received by the family's clever and capable second daughter, on the other hand, is only as expected.

When a bandit attack orphans the two children, though, it is Zhu Chongba who succumbs to despair and dies. Desperate to escape her own fated death, the girl uses her brother's identity to enter a monastery as a young male novice. There, propelled by her burning desire to survive, Zhu learns she is capable of doing whatever it takes, no matter how callous, to stay hidden from her fate.

After her sanctuary is destroyed for supporting the rebellion against Mongol rule, Zhu takes the chance to claim another future altogether: her brother's abandoned greatness.
---
ERIN A. CRAIG – SMALL FAVORS (July 27th)
I read the first few chapters of Craig's Hous eof Salt and Sorrows and found it a bit too YA tropey for my taste, but I may give it another try. And I may also try this new book of hers which sounds pretty intriguing and gives me Goblin Market vibes.
Ellerie Downing lives in the quiet town of Amity Falls in the Blackspire Mountain range–five narrow peaks stretching into the sky like a grasping hand, bordered by a nearly impenetrable forest from which the early townsfolk fought off the devils in the woods. To this day, visitors are few and rare. But when a supply party goes missing, some worry that the monsters that once stalked the region have returned.

As fall turns to winter, more strange activities plague the town. They point to a tribe of devilish and mystical creatures who promise to fulfill the residents' deepest desires, however grand and impossible, for just a small favor. But their true intentions are much more sinister, and Ellerie finds herself in a race against time before all of Amity Falls, her family, and the boy she loves go up in flames.
---
NEWS FROM THE BLOG
Ah, reading plans work out much better for me when I don't make a strict TBR. I made myself a list of all my LGBTQIA+ books on my Kobo (that list turned out to be quite long) and then just picked books by mood. I was also granted another Cat Valente ARC so life is good.
Tags and such:
I did the Mid-Year Book Freak Out Tag and it was, indeed, filled with me freaking out about the amount of books I still want to read this year. My review for The Witness For the Dead by Katherine Addison finally went up and I'm a bit surprised that I read and reviewed the few eARCs I requested this year in such a timely fashion. Go me!
What I read:
Nino Cipri – FINNA
very disappointing – cool idea, bad execution – characters are flat (they have one trait only) – world-hopping was too short – no emotional impact at all – not interested in the sequel
T. Kingfisher – A Wizard's Guide to Defensive Baking
fun and funny – surprising uses of bread dough – fantastic protagonist – pretty exciting story with high stakes
T. J. Klune – The House in the Cerulean Sea
EXACTLY like everyone said – a book like a warm blanket – a feel-good, heartwarming tale of found family – made me laugh and cry
Catherynne M. Valente – Comfort Me With Apples (review coming in October)
wonderfully eerie – Steford Wives vibe – great twist – atmospheric – read in one sitting
Joan He – The Ones We're Meant to Find
so good – mystery upon mystery – two sisters searching for each other – climate change – emotional and dramatic – beautiful understated romance
John Scalzi – The Collapsing Empire
reads like a movie – super fun – interesting ideas – okay characers – can't wait to read the next instalment
Kieron Gillon, Dan Mora – Once & Future Vol 1: The King is Undead
fun idea – King Arthur zombies – hilarious grandma character – pacing issues (Gillon has those a lot) – great art
Currently reading:
Brandon Sanderson – Oathbringer
Rebecca Roanhorse – Black Sun
Seanan McGuire – An Artificial Night

My Stormlight Archive re-read is going well, although I do have to say Oathbringer is my least favorite this time. The world building, extensive as it is, could be done better than just have a character say "Oh there are old documents about this and that" and then "this and that" is supposed to always kind of have been known. I am also just not as engaged this time around whereas the first two books were just as exciting on a re-read as they were the first time I read them. All that said, I still have so much fun re-reading the series and I can't wait to finally get started on Rhythm of War.
Black Sun is great, except there's something missing. It has a cool setting, interesting characters, and a story that promises to become pretty epic, but it all feels a bit predictable. I enjoy reading it when I pick it up and I don't want to put it back down. But once I do, I have no urge to continue… I'm almost done with it so we'll see what my final thoughts will be.
Aaaaaand October Daye #3 is fun. I was worried at first because it re-hashed a lot of ideas from the first two books (and certain things just lose their shock value after the first time) but it picked up speed and is now very entertaining. Not my favorite so far but in general, I like the series, and it's great to know there's a lot more Toby Daye when I'm in the mood for her.

Until next month: Stay safe, stay kind, and keep reading. 🙂