Ages ago, I read the first Foundation book because it's a sci-fi classic and on all the "Best SF" lists and all that other jazz. I found it okay then but now that the book series is being turned into a TV show, I wanted to both refresh my memory and finally continue the series. Turns out, my second reading of Foundation was exactly as middling as the first one. I did continue and read the second book, though, and that experience – although a teensy bit better – was similarly meh.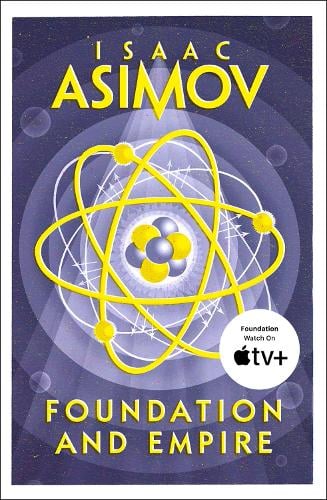 FOUNDATION AND EMPIRE
by Isaac Asimov
Published: Harper Voyager, 1951
eBook: 240 pages
Series: Foundation #2
My rating: 5/10
Opening line: The Galactic Empire Was Falling.
WINNER OF THE HUGO AWARD FOR BEST ALL-TIME SERIES
The Foundation series is Isaac Asimov's iconic masterpiece. Unfolding against the backdrop of a crumbling Galactic Empire, the story of Hari Seldon's two Foundations is a lasting testament to an extraordinary imagination, one whose unprecedented scale shaped science fiction as we know it today.
The First Foundation survived two centuries of barbarism as the once-mighty Galactic Empire descended into chaos. Now it mist prepare for war against the remnants of the Empire as the Imperial fleet advances on their planet, Terminus.
Hari Seldon predicted this war; he even prepared his Foundation for it. But he couldn't foresee the birth of the mutant Mule. In possession of a power which reduces fearsome opposition to devoted slaves, the Mule poses a terrible threat to Seldon's Foundation.
This book is comprised of two stories. The first one is simply a continuation of what was done in the first book – namely a Seldon Crisis which is resolved by one dude being slightly cleverer than another dude, and also "fate". Because Hari Seldon predicted the various crises the Foundation would encounter, and he also predicted that by the laws of psychohistory the Foundation has a super high chance of surpassing all those obstacles, there's not really all that much excitement left. We know ahead of time the Foundation will continue to strive, no matter what kind of problem comes up next. So by creating Hari Seldon, Asimov made it harder for himself to build up tension.
The second, much longer, part of this book is called "The Mule" and it can almost be called a proper story. There's multiple character POVs, we travel different parts of the galaxy, there's a big threat to the Foundation, and there's some new political stuff coming up. Again, a big problem for me was the utter lack of tension throughout the whole story. I knew the Foundation would come out on top because that's the entire point of this series. So why should I worry that a mysterious conquerer who calls himself The Mule is apparently defeating Foundation forces left and right?
Asimov's characters are still as bland and interchangeable as in the first book. It literally doesn't matter who is talking to whom. You could literally exchange the people with talking cats and it wouldn't change a thing about the story (well, it would make it more awesome). Nobody has a personality because this is not the kind of book that's actually trying to tell a riveting story or make its readers feel empathy for its characters. It's a vessel for ideas and, in my opinion, those ideas were transported well enough in the first book. I don't need a second book to tell me the exact same ideas, slightly differently.
But – color me surprised – one of those bland characters is a woman! Who gets to speak!! And who even has a vital role in the tale!!! Never mind all the microaggressions, the sexist remarks, the obvious disregard for women in general, at least we have proof that there are women in Asimov's galaxy. Despite this revolutionary development, I found that the whole Mule story dragged along unnecessarily and the twist ending was super obvious and lacked any impact whatsoever. Again, Asimov is his own worst enemy because of course the "good guys" win and the Foundation is safe.
Speaking of "good guys" – I find the entire premise of this series quite disturbing. When it was all about preserving humanity's knowledge, it was one thing. But what it has always really been about is power and colonization and gaining control over everything through a massive galactic empire. Why the hell should I root for that?
I don't think it's all that surprising that many of the so-called science fiction classics didn't age well. Asimov's idea of psychohistory is still pretty cool, and the Foundation series doesn't have much more to offer in terms of sfnal ideas (so far), but everything that surrounds it, every tiny little bit of worldbuilding or character work I could find in this rather mediocre story is really rather startling in its misogyny, blind love for the military and colonization, hunger for power for power's sake, and totally casual hate towards neurodiverse people.
This book also makes me wonder at this so-called golden age of science-fiction. Sure, many of the ideas that came up at the time must have felt new and exciting, but didn't people also care about storytelling? Because, as interesting as certain ideas may be, they are rather worthless if the story about them sucks. Having just re-read the first Foundation book and then going straight into this one, I did notice that Asimov's writing style has evolved, although he continues to do the same thing over and over again, just slightly better told. At least now we get some descriptions of surroundings, of how a given planet works, instead of just two men standing in a room trying to outsmart each other.
I'm still going to read the third Foundation book just so I have finished what was then The Foundation Trilogy but I very much doubt I'll check out the rest of the series. This trip to a distant past that many people seem to glorify is just not for me.
MY RATING: 5/10 – Utterly meh!