It's a slow news month and that can sometimes be a good thing. What little news and happenings I've gathered here can all be summarized as positive things. Whether it's the long-awaited return of a super cool comic book series, a sci-fi book adaptation, or new releases, I wanted to focus on the good stuff this month.
Quickie News
Saga is back! The acclaimed comic book series by Brian K. Vaughan and Fiona Staples went on hiatus a few years ago but will be returning in January 2022.


line

There will be an online event featuring Catherynne M. Valente and Alix E. Harrow. Tor-rific tales is free to attend but you have to register. As this is part of Glasgow 2024, it's almost happening in my time zone (1 hour difference is ok). Needless to say, I'll be there.


line

Who wants more literary awards? We do! Enter the Ursula K. LeGuin Prize for Fiction which will be awarded for the very first time in October 2022. Among the judges are Becky Chambers and David Mitchell.
---
Der Schwarm (The Swarm) by Frank Schätzing is a very successful German science fiction book from 2004. When it came out, everybody was talking about it, people were joking about its "beach read qualities" because it's about ocean life fighting back or at least having been changed by humanity's carelessness with the planet. So maybe don't read it while on the beach. 🙂
Now ZDF is going to adapt the 1000 pages chonker into a TV show, but in English and as an international cooperation!
"Mir war wichtig, dass wir den »Schwarm« nicht einfach verfilmen, sondern modernisieren. Eine Interpretation für kommende Tage, die das Leben, die Ängste und Hoffnungen junger Generationen in den Mittelpunkt stellt."

[It was important to me not only to adapt The Swarm but to modernize it. An interpretation for the days to come, putting the lives, fears, and hopes of younger generations center stage.]

Frank Schätzing, author and executive producer
I am very curious to see this adaptation. And maybe this will be the necessary kick in my butt to finally read the book!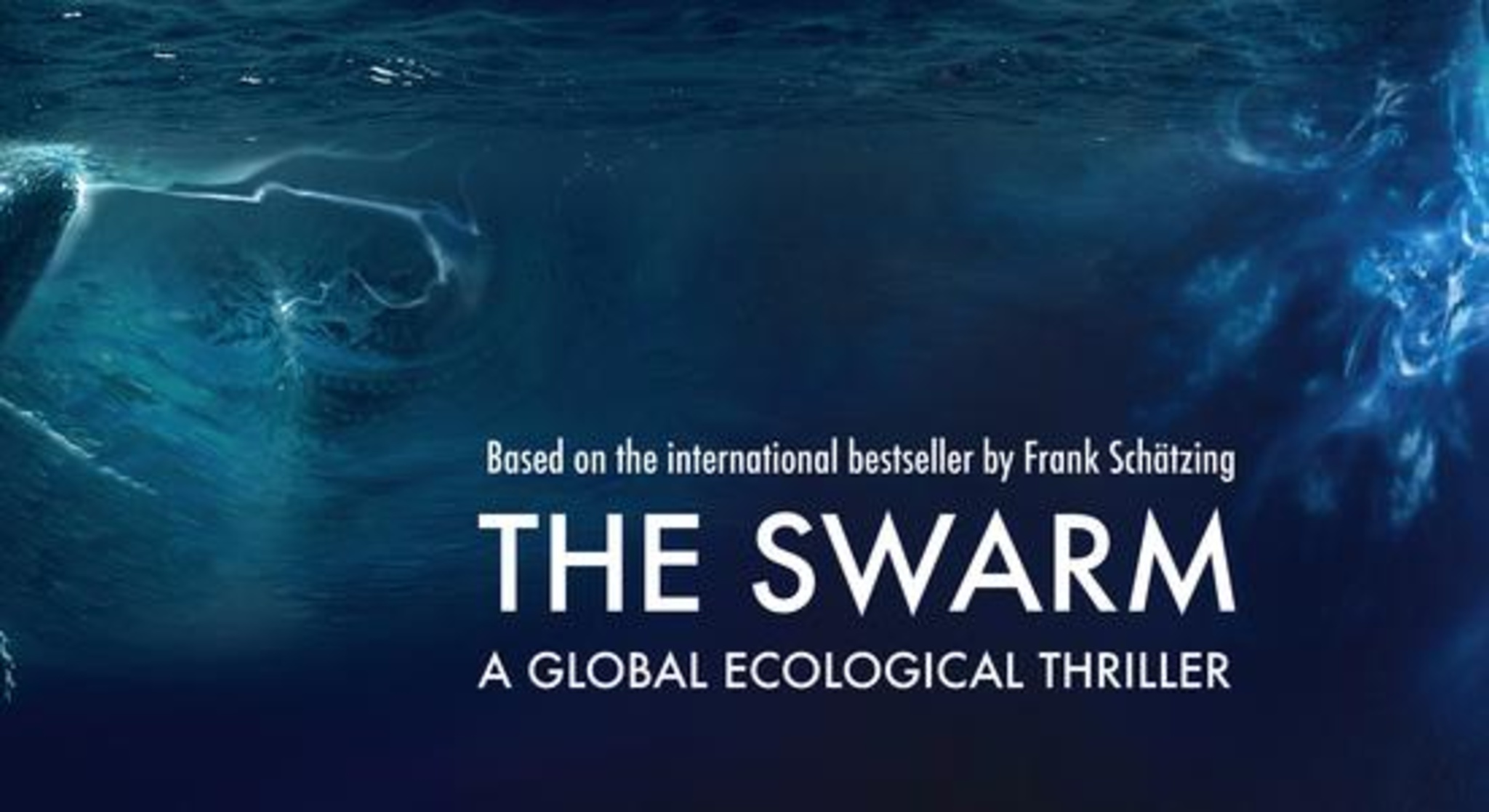 ---
November Readathons
If you're looking for an end-of-the-year boost to your reading or need to catch up on some reading goals, here are a few readathons happening in November that sound really fun:
Although I am in the mood for a readathon, I think I'll take it easy in November. There are still a few Hugo finalists to read, I have a couple of 2022 e-ARCs that I'm excited for and what little is left of the year I will spend mostly mood-reading.
---
At this point, I'm sure most everybody knows about National Novel Writing Month, NaNoWriMo for short, which encourages aspiring writers to build a new habit. The goal is preset at 50000 words but really, it's about getting used to writing every day, some days more, other days less, but keeping at it.
I have never participated before (I did sign up several times but never started, you konw, writing) and I'm not sure if I'll do it this year, but it sounds like so much fun. There are pep talks by famous authors, groups and buddies you can go to for encouragement, and all sorts of badges to earn. I just might try it this time. How about you? Have you ever done NaNoWriMo? Was it rewarding? Would you recommend it?
---
Exciting November Publications
November 2021 has a lot to offer. Continuations or, in the case of the Expanse and the Green Bone Saga, even the finale to beloved series, new things from well-known authors, and a few shiny books that could end up as brand new favorites. Based on the two books I have already had the pleasure of reading, I'm calling November an excellent month for SFF publications!
MARISSA MEYER – GILDED (November 2nd)
Meyer's fairy tale retellings with a sci-fi twist are one of my guilty reading pleasures and I will not stay away from this upcoming one that takes Rumpelstiltskin as its inspiration.
Long ago cursed by the god of lies, a poor miller's daughter has developed a talent for spinning stories that are fantastical and spellbinding and entirely untrue.

Or so everyone believes.

When one of Serilda's outlandish tales draws the attention of the sinister Erlking and his undead hunters, she finds herself swept away into a grim world where ghouls and phantoms prowl the earth and hollow-eyed ravens track her every move. The king orders Serilda to complete the impossible task of spinning straw into gold, or be killed for telling falsehoods. In her desperation, Serilda unwittingly summons a mysterious boy to her aid. He agrees to help her… for a price. Love isn't meant to be part of the bargain.

Soon Serilda realizes that there is more than one secret hidden in the castle walls, including an ancient curse that must be broken if she hopes to end the tyranny of the king and his wild hunt forever.
---
LAURA E. WEYMOUTH – A RUSH OF WINGS (November 2nd)
And there are more fairy tale retellings. This one is a take on the six swans set in Scotland.
Rowenna Winthrop has always known there's magic within her. But though she hears voices on the wind and possesses unusual talents, her mother Mairead believes Rowenna lacks discipline, and refuses to teach her the craft that keeps their Scottish village safe. When Mairead dies a sinister death, it seems Rowenna's one chance to grow into her power has passed. Then, on a fateful, storm-tossed night, Rowenna rescues a handsome stranger named Gawen from a shipwreck, and her mother miraculously returns from the dead. Or so it appears.

This resurrected Mairead is nothing like the old one: to hide her new and monstrous nature, she turns Rowenna's brothers and Gawen into swans and robs Rowenna of her voice. Forced to flee, Rowenna travels to the city of Inverness to find a way to break the curse. But monsters take many forms, and in Inverness Rowenna is soon caught in a web of strangers who want to use her raw magic for their own gain. If she wishes to save herself and the people she loves most, Rowenna will have to take her fate into her own hands, and unlock the power that has evaded her for so long.
---
FREYA MARSKE – A MARVELLOUS LIGHT (November 2nd)
This is one of the books I've been looking forward to the longest. Anything that's described as "meets Jonathan Strange and Mr. Norrell" has my attention, if you then add what sounds like a delightfully charming gay romance and a fantasy of manners setting, I will bite.
I like the intricate flower dsign on the cover, although the colors are a bit much if you ask me.
Red White & Royal Blue meets Jonathan Strange and Mr. Norrell in debut author Freya Marske's A Marvellous Light, featuring an Edwardian England full of magic, contracts, and conspiracies.

Robin Blyth has more than enough bother in his life. He's struggling to be a good older brother, a responsible employer, and the harried baronet of a seat gutted by his late parents' excesses. When an administrative mistake sees him named the civil service liaison to a hidden magical society, he discovers what's been operating beneath the unextraordinary reality he's always known.

Now Robin must contend with the beauty and danger of magic, an excruciating deadly curse, and the alarming visions of the future that come with it—not to mention Edwin Courcey, his cold and prickly counterpart in the magical bureaucracy, who clearly wishes Robin were anyone and anywhere else.

Robin's predecessor has disappeared, and the mystery of what happened to him reveals unsettling truths about the very oldest stories they've been told about the land they live on and what binds it. Thrown together and facing unexpected dangers, Robin and Edwin discover a plot that threatens every magician in the British Isles—and a secret that more than one person has already died to keep.
---
NNEDI OKORAFOR – NOOR (November 9th)
I read an e-ARC of this and it's one of my favorite books of the year. Nnedi Okorafor has been writing quality SFF for years now and with every new book of hers, it's like entering a new world. You never know which direction she will take, you just know it will be one hell of a ride. Pre-ordering this is highly recommended! Also that cover is like holding pure sunshine in your hands.
From Africanfuturist luminary Okorafor comes a new science fiction novel of intense action and thoughtful rumination on biotechnology, destiny, and humanity in a near-future Nigeria.

Anwuli Okwudili prefers to be called AO. To her, these initials have always stood for Artificial Organism. AO has never really felt…natural, and that's putting it lightly. Her parents spent most of the days before she was born praying for her peaceful passing because even in-utero she was wrong. But she lived. Then came the car accident years later that disabled her even further. Yet instead of viewing her strange body the way the world views it, as freakish, unnatural, even the work of the devil, AO embraces all that she is: A woman with a ton of major and necessary body augmentations. And then one day she goes to her local market and everything goes wrong.

Once on the run, she meets a Fulani herdsman named DNA and the race against time across the deserts of Northern Nigeria begins. In a world where all things are streamed, everyone is watching the reckoning of the murderess and the terrorist and the saga of the wicked woman and mad man unfold. This fast-paced, relentless journey of tribe, destiny, body, and the wonderland of technology revels in the fact that the future sometimes isn't so predictable. Expect the unaccepted.
---
CATHERYNNE M. VALENTE – COMFORT ME WITH APPLES (November 9th)
I read this book back in spring and, to nobody's surprise, really loved it. It's an eerie sort of tale, perfect for October (publication was pushed back) and for gulping up in one sitting. Beware of spoilers, though. Best don't read anything about the book, just pick up the book and discover it for yourself.
Sophia was made for him. Her perfect husband. She can feel it in her bones. He is perfect. Their home together in Arcadia Gardens is perfect. Everything is perfect.

It's just that he's away so much. So often. He works so hard. She misses him. And he misses her. He says he does, so it must be true. He is the perfect husband and everything is perfect.

But sometimes Sophia wonders about things. Strange things. Dark things. The look on her husband's face when he comes back from a long business trip. The questions he will not answer. The locked basement she is never allowed to enter. And whenever she asks the neighbors, they can't quite meet her gaze…

But everything is perfect. Isn't it?
---
NATASHA BOWEN – SKIN OF THE SEA (November 9th)
Hello, even more fairy tale retellings! Come to me, don't be shy. Give me all the Black mermaids who collect souls you can find. This sounds like so much more than just the Little Mermaid and the beautiful cover doesn't hurt either.
An unforgettable fantasy debut inspired by West African mythology, this is Children of Blood and Bone meets The Little Mermaid, in which a mermaid takes on the gods themselves.

A way to survive.
A way to serve.
A way to save.

Simi prayed to the gods, once. Now she serves them as Mami Wata–a mermaid–collecting the souls of those who die at sea and blessing their journeys back home.

But when a living boy is thrown overboard, Simi does the unthinkable–she saves his life, going against an ancient decree. And punishment awaits those who dare to defy it.

To protect the other Mami Wata, Simi must journey to the Supreme Creator to make amends. But something is amiss. There's the boy she rescued, who knows more than he should. And something is shadowing Simi, something that would rather see her fail. . . .

Danger lurks at every turn, and as Simi draws closer, she must brave vengeful gods, treacherous lands, and legendary creatures. Because if she doesn't, then she risks not only the fate of all Mami Wata, but also the world as she knows it.
---
ANDREA STEWART – THE BONE SHARD EMPEROR (November 11th)
YES, more Bone Shard universe! If you haven't read The Bone Shard Daughter go pick it up and meet Mephi, the cutest animal companion ever. Also, great worldbuilding, intriguing characters, and a super cool magic system.
The Bone Shard Emperor is the unmissable sequel to The Bone Shard Daughter, one of the biggest fantasy debuts of 2020 – a captivating tale of magic, revolution and mystery, where a young woman's sense of identity will make or break an empire.

The Emperor is Dead. Long live the Emperor.

Lin Sukai finally sits on the throne she won at so much cost, but her struggles are only just beginning. Her people don't trust her. Her political alliances are weak. And in the northeast of the Empire, a rebel army of constructs is gathering, its leader determined to take the throne by force.

Yet an even greater threat is on the horizon, for the Alanga – the powerful magicians of legend – have returned to the Empire. They claim they come in peace, and Lin needs their help to defeat the rebels and restore order.

But can she trust them?
---
JAMES S. A COREY – LEVIATHAN FALLS (November 16th)
I have no idea what the synopsis below says as I've only read the first book in the Expanse series and I plan to finish it someday. But I still want to mention this publication because it marks the end of the series. This is it, guys. The last one.
The Laconian Empire has fallen, setting the thirteen hundred solar systems free from the rule of Winston Duarte. But the ancient enemy that killed the gate builders is awake, and the war against our universe has begun again.

In the dead system of Adro, Elvi Okoye leads a desperate scientific mission to understand what the gate builders were and what destroyed them, even if it means compromising herself and the half-alien children who bear the weight of her investigation. Through the wide-flung systems of humanity, Colonel Aliana Tanaka hunts for Duarte's missing daughter. . . and the shattered emperor himself. And on the Rocinante, James Holden and his crew struggle to build a future for humanity out of the shards and ruins of all that has come before.

As nearly unimaginable forces prepare to annihilate all human life, Holden and a group of unlikely allies discover a last, desperate chance to unite all of humanity, with the promise of a vast galactic civilization free from wars, factions, lies, and secrets if they win.

But the price of victory may be worse than the cost of defeat.
---
BRANDON SANDERSON – CYTONIC (November 23rd)
I'm honestly thinking about doing a Skyward re-read but since this year was already my Stormlight Archive re-read that would be a bit much. I will probably end up saving up this third instalment, the three companion novellas that came/are coming out this year and then doing a full re-read next year.
Spensa's life as a Defiant Defense Force pilot has been far from ordinary. She proved herself one of the best starfighters in the human enclave of Detritus and she saved her people from extermination at the hands of the Krell—the enigmatic alien species that has been holding them captive for decades. What's more, she traveled light-years from home as an undercover spy to infiltrate the Superiority, where she learned of the galaxy beyond her small, desolate planet home.

Now, the Superiority—the governing galactic alliance bent on dominating all human life—has started a galaxy-wide war. And Spensa's seen the weapons they plan to use to end it: the Delvers. Ancient, mysterious alien forces that can wipe out entire planetary systems in an instant. Spensa knows that no matter how many pilots the DDF has, there is no defeating this predator.

Except that Spensa is Cytonic. She faced down a Delver and saw something eerily familiar about it. And maybe, if she's able to figure out what she is, she could be more than just another pilot in this unfolding war. She could save the galaxy.

The only way she can discover what she really is, though, is to leave behind all she knows and enter the Nowhere. A place from which few ever return.

To have courage means facing fear. And this mission is terrifying.
---
FONDA LEE – JADE LEGACY (November 30th)
It's finally coming, the last book in the Green Bone Saga!!! And yes I did order those special editions from Illumicrate, I'm an adult woman and I can spend all my money on books if I like. But with or without special editions, shiny covers, and author signature, I cannot wait to see how this brilliant trilogy ends.
Jade, the mysterious and magical substance once exclusive to the Green Bone warriors of Kekon, is now known and coveted throughout the world. Everyone wants access to the supernatural abilities it provides, from traditional forces such as governments, mercenaries, and criminal kingpins, to modern players, including doctors, athletes, and movie studios. As the struggle over the control of jade grows ever larger and more deadly, the Kaul family, and the ancient ways of the Kekonese Green Bones, will never be the same.

The Kauls have been battered by war and tragedy. They are plagued by resentments and old wounds as their adversaries are on the ascent and their country is riven by dangerous factions and foreign interference that could destroy the Green Bone way of life altogether. As a new generation arises, the clan's growing empire is in danger of coming apart.

The clan must discern allies from enemies, set aside aside bloody rivalries, and make terrible sacrifices… but even the unbreakable bonds of blood and loyalty may not be enough to ensure the survival of the Green Bone clans and the nation they are sworn to protect.
---
News from the blog
I had plans for October. Some of them I followed, others… not so much. I did continue some of my longer projects of the year (The Wheel of Time and The Stormlight Archive), plus I read a few NetGalley ARCs and some more Hugo finalists. But I also picked up books just because I felt like it. Here are my thoughts on the first three Hugo categories:
My Reading the Hugos series will continue throughout November and maybe into December, depending on how fast I am with the Best Series category and if I manage to throw in a couple of Astounding finalists last minute. Best Series is going very well so far and I can feel a surge of ambition coming on to race through the Astounding finalists as well. Wish me luck.
What I read:
It was a fairly good month, in terms of quality, with one infuriatingly bad book among them, but also with one brilliantly shining gem and one re-read that I liked even better the second time around. My Best Series Hugo Award ballot is becoming tougher and tougher to rank the more finalists I read but I guess there are worse problems to have than "I liked all of these, thanks".
Currently reading:
Brandon Sanderson – Rhythm of War
Robert Jordan – The Great Hunt
R. F. Kuang – The Dragon Republic
The fourth Stormlight book is both a surprisingly fast read (considering it's 1200 pages) and the slowest instalment so far. I don't feel a huge urge to return to the book but when I do continue reading, the pages fly by pretty fast. I can't quite say the same of The Wheel of Time because, due to its age and trope-heaviness, it's simply not as exciting and I don't pick it up as often. But the second book definitely shows some real potential in terms of world building. As for characterization and foreshadowing… we can work on that. Jordan is not exactly subtle, let me put it that way. But I'm still intrigued enough to want to continue the series.
And Rebecca Kuang is the one who stole all my attention. Damn, the Poppy War series is good!
Until next month: Stay safe, stay kind, and keep reading. 🙂