Happy New Year everyone! I hope you all celebrated safely and responsibly with people you love and are ready for a new year, full of fresh new SFF books, reading challenges, book awards, and readathons.
Quickie News
Anne Rice, the author of Interview With a Vampire, among many others, has died at the age of 80.

I think a collective cheer went through all sorts of readers when we found out that Madeline Miller, writer of the amazing Song of Achilles and Circe is writing a Persephone story Bring it on! I cannot wait to see this tale unfold in Miller's capable hands.
---
The Hugo Award Winners Have Been Announced
Congratulations to the amazing winners (and the other finalists). There were a few surprises and a few, let's say, rather obvious wins, but I for one am happy about each and every one of them even if my beloved Poppy War and Raybearer didn't take home a Hugo. Here are some of the e winners. For all the categories as well as detailed voting and nominating statistics, go here.
Best Novel: Martha Wells – Network Effect
Best Novella: Nghi Vo – The Empress of Salt and Fortune
Best Novelette: Sarah Pinsker – Two Truths and a Lie
Best Short Story: T. Kingfisher – "Metal Like Blood in the Dark"
Best Professional Artist: Rovina Cai
Best Series: The Murderbot Diaries
Best Graphic Story: Octavia Butler, Damian Duffy – Parable of the Sower
Best Related Work: Maria Dahvana Headley – Beowulf: A New Translation
Lodestar for Best YA Fiction: T. Kingfisher – A Wizard's Guide to Defensive Baking
I am also super happy that nerds of a feather and The Coode Street Podcast finally won a Hugo. I've been nominating and voting for them for years and they were clearly very happy and gracious winners.
This also marked the first year with a Video Game category and, to my boyfriend's delight, Hades won the inaugural Hugo award.
---
Reading Challenges for 2022
If, like me, you just can't start a new year without at least one year-long reading challenge, here are a few that sound interesting to me and that might tickle you as well:
The title tells you what this is all about, but there are also 12 handy prompts – one for each month – plus some recommendations for books that fit each prompt. The prompts are pretty vague (like "Winter" or "Fire") so you can make most books fit somehow.
It's back! I did this challenge last year and had fun with it, but it was both a little overwheliming (52 prompts!) and didn't have enough pressure for me. I know that sounds weird but I never claimed to be normal, so…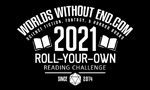 For everyone who wants to create their own challenge or join a bunch of mini-challenges (such as myself), there's always Worlds Without End. AS I'm writin ghis, it's still 2021 but you can create your own challenges with your own set of rules, track your books easily and join challenges other users have created. I usually do the LGBTQIA+ challenge, the Authors of Color challenge, the Read the Sequel cahllenge, and the Women of Genre Fiction challenge. You can set the amount of books you want to read for each of these yourself, so it's not as much reading as it may sound. 🙂
---
Exciting January Publications
I'm really glad publishing slows down in December and we have a bit of time to catch up on all those books we bought throughout the year.
AKSHAYA RAMAN – THE IVORY KEY (January 4th)
I am cautiously excited about this debut, part one of a duology based on Indian myths. The cover is certainly stunning.
Magic, a prized resource, is the only thing between peace and war. When magic runs out, four estranged royal siblings must find a new source before their country is swallowed by invading forces. The first in an Indian-inspired duology.

Vira is desperate to get out of her mother's shadow and establish her legacy as a revered queen of Ashoka. But with the country's only quarry running out of magic–a precious resource that has kept Ashoka safe from conflict–she can barely protect her citizens from the looming threat of war. And if her enemies discover this, they'll stop at nothing to seize the last of the magic.

Vira's only hope is to find a mysterious object of legend: the Ivory Key, rumored to unlock a new source of magic. But in order to infiltrate enemy territory and retrieve it, she must reunite with her siblings, torn apart by the different paths their lives have taken. Each of them has something to gain from finding the Ivory Key–and even more to lose if they fail. Ronak plans to sell it to the highest bidder in exchange for escape from his impending political marriage. Kaleb, falsely accused of assassinating the former maharani needs it to clear his name. And Riya, a runaway who cut all family ties, wants the Key to prove her loyalty to the rebels who want to strip the nobility of its power.

They must work together to survive the treacherous journey. But with each sibling harboring secrets and their own agendas, the very thing that brought them together could tear apart their family–and their world–for good.
---
YOON HA LEE – TIGER HONOR (January 4th)
So, Dragon Pearl is no longer quite a standalone Middle Grade space adventure as it will get a companion novel/sequel in 2022. I liked but didn't love the first book and, honestly, the plot of this new one sounds almost exactly the same, so I may just skip it. Or at least wait to see what other people say about it.
Sebin, a young tiger spirit from the Juhwang Clan, wants nothing more than to join the Thousand World Space Forces and, like their Uncle Hwan, captain a battle cruiser someday. But when Sebin's acceptance letter finally arrives, it's accompanied by the shocking news that Hwan has been declared a traitor. Apparently, the captain abandoned his duty to steal a magical artifact, the Dragon Pearl, and his whereabouts are still unknown. Sebin hopes to help clear their hero's name and restore honour to the clan.

Nothing goes according to plan, however. As soon as Sebin arrives for orientation, they are met by a special investigator named Yi and his assistant, a girl named Min. Yi informs Sebin that they must immediately report to the ship Haetae and await further instructions. Sebin finds this highly unusual, but soon all protocol is forgotten when there's an explosion on the ship, the crew is knocked out, and the communication system goes down. It's up to Sebin, three other cadets, and Yi and Min to determine who is sabotaging the battlecruiser. When Sebin is suddenly accused of collaborating with the enemy, the cadet realizes that Min is the most dangerous foe of all…
---
SEANAN MCGUIRE – WHERE THE DROWNED GIRLS GO (January 4th)
It's the 7th Wayward Children novella and this time, we're going to focus on Cora, the character I like the very least out of everyone who has appeared in this series. I hope her story gets resolved in this one and we won't have to read about her anymore after this. If it were for me, I wouldn't read this book at all, but I'm sure it will be nominated for a Hugo next year because it's by Seanan McGuire…
Welcome to the Whitethorn Institute. The first step is always admitting you need help, and you've already taken that step by requesting a transfer into our company.

There is another school for children who fall through doors and fall back out again.
It isn't as friendly as Eleanor West's Home for Wayward Children.
And it isn't as safe.

When Eleanor West decided to open her school, her sanctuary, her Home for Wayward Children, she knew from the beginning that there would be children she couldn't save; when Cora decides she needs a different direction, a different fate, a different prophecy, Miss West reluctantly agrees to transfer her to the other school, where things are run very differently by Whitethorn, the Headmaster.

She will soon discover that not all doors are welcoming…
---
SUE LYNN TAN – DAUGHTER OF THE MOON GODDESS (January 11th)
There are several books inspired by the story of the moon goddess coming out next year. This one happens to have two gorgeous covers, both the US and UK version, and I want to read it very much.
A captivating debut fantasy inspired by the legend of Chang'e, the Chinese moon goddess, in which a young woman's quest to free her mother pits her against the most powerful immortal in the realm.

Growing up on the moon, Xingyin is accustomed to solitude, unaware that she is being hidden from the feared Celestial Emperor who exiled her mother for stealing his elixir of immortality. But when Xingyin's magic flares and her existence is discovered, she is forced to flee her home, leaving her mother behind.

Alone, powerless, and afraid, she makes her way to the Celestial Kingdom, a land of wonder and secrets. Disguising her identity, she seizes an opportunity to learn alongside the emperor's son, mastering archery and magic, even as passion flames between her and the prince.

To save her mother, Xingyin embarks on a perilous quest, confronting legendary creatures and vicious enemies across the earth and skies. But when treachery looms and forbidden magic threatens the kingdom, she must challenge the ruthless Celestial Emperor for her dream—striking a dangerous bargain in which she is torn between losing all she loves or plunging the realm into chaos.

Daughter of the Moon Goddess begins an enchanting, romantic duology which weaves ancient Chinese mythology into a sweeping adventure of immortals and magic—where love vies with honor, dreams are fraught with betrayal, and hope emerges triumphant.
---
SCOTTO MOORE – BATTLE OF THE LINGUIST MAGES (January 11th)
This sounds like something I should absolutely love but for some reason, I worry that I might just as likely end up hating this book. It's just a feeling but I very much hope that this will end up being my jam. Linguistics and magic and a VR game named "Sparkle Dungeon" – how can I resist?
In modern day Los Angeles, a shadowy faction led by the Governor of California develops the arcane art of combat linguistics, planting the seeds of a future totalitarian empire in Scotto Moore's Battle of the Linguist Mages.

Isobel is the Queen of the medieval rave-themed VR game Sparkle Dungeon. Her prowess in the game makes her an ideal candidate to learn the secrets of "power morphemes"—unnaturally dense units of meaning that warp perception when skilfully pronounced.

But Isobel's reputation makes her the target of a strange resistance movement led by spellcasting anarchists, who may be the only thing stopping the cabal from toppling California over the edge of a terrible transformation, with forty million lives at stake.

Time is short for Isobel to level up and choose a side—because the cabal has attracted much bigger and weirder enemies than the anarchist resistance, emerging from dark and vicious dimensions of reality and heading straight for planet Earth!
---
KATE ELLIOT – SERVANT MAGE (January 18th)
I've only read one Kate Elliot book a long time ago and somehow, I feel like I should remedy that. Maybe with this slim novella from Tor.com?
Fellion is a Lamplighter, able to provide illumination through magic. A group of rebel Monarchists free her from indentured servitude and take her on a journey to rescue trapped compatriots from an underground complex of mines.

Along the way they get caught up in a conspiracy to kill the latest royal child and wipe out the Monarchist movement for good.

But Fellion has more than just her Lamplighting skills up her sleeve…

In Kate Elliott's Servant Mage, a lowly fire mage finds herself entangled in an empire-spanning conspiracy on her way to discovering her true power.
---
NNEDI OKORAFOR – AKATA WOMAN (January 18th)
This is my most anticipated release of January! I have read one Akata book, listened to the other and I'm very much thinking about re-listening to both books before diving in to this third volume in the Nsibidi Scripts series. I have adored almost everything Okorafor has written and I have a particularly soft spot in my heart for this series.
From the moment Sunny Nwazue discovered she had magic flowing in her blood, she sought to understand and control her powers. Throughout her adventures in Akata Witch and Akata Warrior, she had to navigate the balance between nearly everything in her life–America and Nigeria, the "normal" world and the one infused with juju, human and spirit, good daughter and powerful Leopard Person.

Now, those hard lessons and abilities are put to the test in a quest so dangerous and fantastical, it would be madness to go…but deadly not to. With the help of her friends, Sunny embarks on a mission to find a precious object hidden deep in a magical realm. Defeating the guardians of the prize will take more from Sunny than she has to give, and triumph will mean she will be forever changed.
---
TOCHI ONYEBUCHI – GOLIATH (January 25th)
Tochi Onyebuchi is an author to watch so I am watching and by watching I mean buying all his books as they come out. This one sounds like the depressing-but-with-a-sliver-of-hope kind of story that I like.
In the 2050s, Earth has begun to empty. Those with the means and the privilege have departed the great cities of the United States for the more comfortable confines of space colonies. Those left behind salvage what they can from the collapsing infrastructure. As they eke out an existence, their neighborhoods are being cannibalized. Brick by brick, their houses are sent to the colonies, what was once a home now a quaint reminder for the colonists of the world that they wrecked.

A primal biblical epic flung into the future, Goliath weaves together disparate narratives—a space-dweller looking at New Haven, Connecticut as a chance to reconnect with his spiraling lover; a group of laborers attempting to renew the promises of Earth's crumbling cities; a journalist attempting to capture the violence of the streets; a marshal trying to solve a kidnapping—into a richly urgent mosaic about race, class, gentrification, and who is allowed to be the hero of any history.
---
News from the blog
My December was filled with comfort reads, catching up on new releases and finishing some big books that had accompanied me for a while. Until, at the end, Christmas celebrations, seeing family and friends and all that took over and I didn't read much at all. And that's okay.
My last Reading the Hugos post went live in December and that concludes this year's Hugo reading project. I may be crazy but I'm already looking forward to doing it all over again this year. And if you're still building your TBR for 2022, my very long list of expected publications is there to inspire you and make your wallet weep.
Also, check out my favorites of the year. Hugo nominating season is coming up again (wink wink, nudge nudge).
What I read last month:
This isn't much but it was a pretty good month overall. I'm still not quite finished with The Burning God (I'm scared of the ending!!!) and The Wheel of Time continues to be my ever-so-slowly-moving companion. After having watched Season 1 of the TV show, it becomes all the more obvious how much better one could have told that story. Jordan went the most predictable and sometimes even boring route. But I'm going to keep reading to see if sparks will fly between me and these books eventually.
Currently reading:
Robert Jordan – The Dragon Reborn
R. F. Kuang – The Burning God
C. S. E. Cooney – Dark Breakers
Ryka Aoki – Light From Uncommon Stars
I'm just finishing one of my two C.S.E. Cooney ARCs and I can already recommend this one for fans of artists and faeries and beautiful prose. I'm listening to Light From Uncomon Stars, a pretty bonkers book that shouldn't work but somehow does, and the rest is me not wanting to finish because then it will be over (Burning God) and not particularly wanting to continue because it takes ages for something to happen (Dragon Reborn).
Until next month: Stay safe, stay kind, and keep reading. 🙂