The end of the year approaches and that means, for the very first time, it's Hugo Awards season in winter.
Some quick life news because Covid is hitting hard again this winter (mostly unvaccinated folks), I got my booster shot and my partner is getting his in early December. Austria is currently dealing with the most cases per capita in the world, hospitals are starting triage because there is no more space for all the patients and even fucking cancer operations had to be postponed to accomodate unvaccinated Covid-patients. 😦
If you're reading this and haven't been vaccinated yet, please, please do so. Nobody is going to be angry with you for changing your mind, nobody is going to look down on you! Please make sure to protect yourself and others from this deadly disease and, by extension, from dying from other, preventable causes. (/end covid talk)
Quickie News
The second season of The Witcher is coming to Netflix on December 17th and I'm preparing all the coins to toss at my TV.

Holy shit, episode 4 of The Wheel of Time kicked ass! This isn't news, I just needed to express my love for the episode somewhere. Goosebumps, I tell you.

The Spiderwick Chronicles are being adapted by Disney+ so we have yet another SFF series to look forward to. Bring them on, I say!

And there is talk that Amazon wants to make a Mass Effect TV show. If that happens, it will be a while, what with the Wheel of Time ongoing and Lord of the Rings coming next year. But it's always good to have something to look forward to.
---
The World Fantasy Awards Have Been Announced
I am so happy that Alaya Dawn Johnson has won the award for Best Novel! Congratulations to all the winners in the various categories. Here are some of them:
Best Novel: Alaya Dawn Johnson – Trouble the Saints
Best Novella: Tochi Onyebuchi – Riot Baby
Best Short Fiction: Celeste Rita Baker – "Glass Bottle Dancer"
Best Artist: Rovina Cai
Lifetime Achievement Award: Robin Hobb/Megan Lindholm and Howard Waldrop
I have read quite a few Robin Hobb books and she remains one of my favorite fantasy authors to this day so I'm thrilled her work was honored this way. I have enjoyed Rovina Cai's covers and illustrations whenever I came across them (and I adore her style), I read Riot Baby and I have read Alaya Dawn Johnson before, although Trouble the Saints is still on my TBR. In fact, it's on my still-to-read-in-2021 list. I had planned to read it during the Magical Readathon but you know how these things go. Now I'm all the more excited to dive into the book!
---
The Hugo Awards Ceremony Is Coming
I think this might be the most exciting year of Hugo Awards for me ever. Not only did I vote (again) but my favorite categories are particularly strong this year. It's almost a guarantee that I'll be happy with the winners because all of the finalists are so good! Additionally, with the Hugos having been pushed to December instead of August, there was a lot more time to read all those finalists.
It's all going to happen on December 18th, at 8pm EST (that's 2am for me) and if there is a livestream I will watch it as it happens and cheer on my favorites with as much enthusiasn as I can muster at that time of night.
It may not be the same as being in the same room with the finalists but, hey, at least I can wear pyjamas and nobody will judge me for it. 🙂
---
NaNoWriMo Is Over, Long Live NaNoWriMo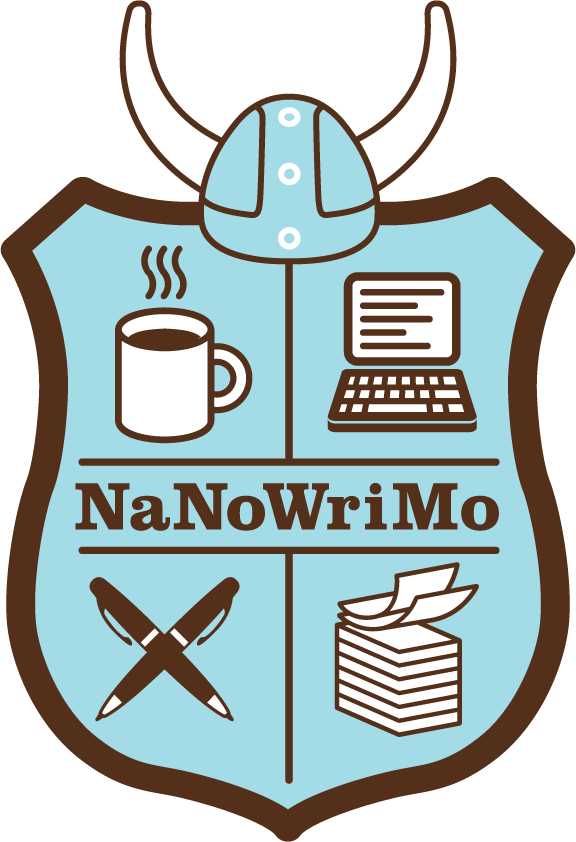 You guys, I did it! I participated in NaNoWriMo. Sat down on November 1st with a blank page and an equally blank mind and just started writing whatever the hell came to my mind. What I ended up with is an absolute mess with no structure, barely any plot, and a lot of notes to "add this later" but I have to admit, the experience was fun!
Don't expect the Next Great Novel (or indeed any novel) from me, but despite it being super annoying at times, this experience was also quite rewarding. And who knows, maybe when I come back to this jumble of words I've created, I'll actually be able to add a plot and then it might just grow up to be a proper book.
---
Exciting December Publications
I'm really glad publishing slows down in December and we have a bit of time to catch up on all those books we bought throughout the year.
KEN LIU – THE VEILED THRONE (December 7th)
Lalala, I'm not reading the synopsis because this is book 3 in the Dandelion Dynasty series by Ken Liu and I haven't even started reading that one yet. But fans can rejoce, because this book is about 1000 pages thick.
With the invasion of Dara complete, and the Wall of Storms breached, the world has opened to new possibilities for the gods and peoples of both empires as the sweeping saga of the award-winning Dandelion Dynasty continues in this third book of the "magnificent fantasy epic" (NPR).

Princess Théra, once known as Empress Üna of Dara, entrusted the throne to her younger brother in order to journey to Ukyu-Gondé to war with the Lyucu. She has crossed the fabled Wall of Storms with a fleet of advanced warships and ten thousand people. Beset by adversity, Théra and her most trusted companions attempt to overcome every challenge by doing the most interesting thing. But is not letting the past dictate the present always possible or even desirable?

In Dara, the Lyucu leadership as well as the surviving Dandelion Court bristle with rivalries as currents of power surge and ebb and perspectives spin and shift. Here, parents and children, teachers and students, Empress and Pékyu, all nurture the seeds of plans that will take years to bloom. Will tradition yield to new justifications for power?

Everywhere, the spirit of innovation dances like dandelion seeds on the wind, and the commoners, the forgotten, the ignored begin to engineer new solutions for a new age.

Ken Liu returns to the series that draws from a tradition of the great epics of our history from the Aeneid to the Romance on the Three Kingdoms and builds a new tale unsurpassed in its scope and ambition
---
FEMI FADUGBA – THE UPPER WORLD (December 7th)
I stumbled across this striking cover, read the description and am now intrigued. Time travel, hard sci-fi and lots of physics? Sounds pretty good, doesn't it? Plus, a Netflix adaptation already appears to be in the works.
If you had the chance to change your future, would you take it?

Perfect for fans of Neal Shusterman and Jason Reynolds, this powerhouse, mind-bending YA debut follows two teens, a generation apart, whose fates collide across time–and outside of it.

Today

During arguably the worst week of Esso's life, an accident knocks him into an incredible world–a place beyond space or time, where he can see glimpses of the past and future. But if what he sees there is true, he might not have much longer to live, unless he can use his new gift to change the course of history.

Tomorrow

Rhia's past is filled with questions, none of which she expects a new physics tutor to answer. But Dr. Esso's not here to help Rhia. He's here because he needs her help–to unravel a tragedy that happened fifteen years ago. One that holds the key not only to Rhia's past, but to a future worth fighting for.

Soon to be a major Netflix movie starring Oscar-nominated Daniel Kaluuya!
---
M. A. CARRICK – THE LIAR'S KNOT (December 9th)
Another sequel to a book I haen't read yet but am super excited for. I am determined to read The Mask of Mirrors, the first book in the Rook & Rose series, next year. It sounds like excellent fun.
Trust is the thread that binds us . . . and the rope that hangs us.

In Nadezra, peace is as tenuous as a single thread. The ruthless House Indestor has been destroyed, but darkness still weaves through the city's filthy back alleys and jewel-bright gardens, seen by those who know where to look.

Derossi Vargo has always known. He has sacrificed more than anyone imagines to carve himself a position of power among the nobility, hiding a will of steel behind a velvet smile. He'll be damned if he lets anyone threaten what he's built.

Grey Serrado knows all too well. Bent under the yoke of too many burdens, he fights to protect the city's most vulnerable. Sooner or later, that fight will demand more than he can give.

And Ren, daughter of no clan, knows best of all. Caught in a knot of lies, torn between her heritage and her aristocratic masquerade, she relies on her gift for reading pattern to survive. And it shows her the web of corruption that traps her city.

But all three have yet to discover just how far that web stretches. And in the end, it will take more than knives to cut themselves free…
---
BRANDON SANDERSON and JANCI PATTERSON – EVERSHORE (December 28th)
This is the third of Sanderson's Skyward novellas which he co-wrote with Janci Patterson. The first two are supposed to be read before and this third one after Cytonic, the third full novel in Sanderson's YA series. I'm saving them all up and shall read them in the author's suggested order but probably only next year.
From #1 bestselling author Brandon Sanderson and Janci Patterson comes the final of three Skyward series novellas, each told from the perspective of a different member of the team back on Detritus. Listen to Jorgen's story along with Cytonic.

With the government of Detritus in disarray because of Superiority treachery, and with Spensa still away on her mission in the Nowhere, Jorgen must work together with the alien Alanik to pick up the pieces. They intercept a strange transmission from the planet Evershore and its Kitsen inhabitants, who say they have some of Jorgen's people and want to return them—but can the Kitsen be trusted? And can Jorgen learn to master his increasingly erratic cytonic powers before they spiral out of control and destroy all hope of forming an alliance against the Superiority?
---
News from the blog
I was so productive in November! Seriously, I have to pat myself on the back here because usually, when I start a project or set myself a goal, I tend to aim too high, lose steam and eventually it all just fizzles out. Not so this November. I participated in NaNoWriMo and actually sat down to write on most days, I continued my running training which means going for a run 3-4 times a week, regardless of the weather and my mood (spoiler: my mood always imrpoves dramatically after I went for a run). I got my Covid booster and a flu shot. And I kept reading through my planned TBR, albeit a bit more slowly than I had hoped.
As for this blog, thank the blogging gods for pre-scheduled posts because that's the one aspect where I didn't do much. But with my ARC reviews and Reading the Hugos posts already planned, I hope you didn't notice my absence. You can find those here:
I'll post one more Reading the Hugos post in December (Best Series is coming!) but then I'm calling it quits for the year. I had planned to read the Astounding finalists as well but I just don't have the energy anymore. I'd like to spend the rest of the year reading without pressure, picking up whatever I feel like without thinking about awards or lists. And then in January, I can go into full list-making mode with fresh energy and motivation.
What I read last month:
I read a lot of BIG books in November and for a while it felt like I didn't get on with my TBR at all. If you have only books between 600 and 1200 pages each on your currently reading pile, progress can feel slow and motivation can droop a bit. Especially when the latest Stormlight book doesn't quite live up to expectations.
Currently reading:
Brandon Sanderson – Rhythm of War
R. F. Kuang – The Burning God
Robert Jordan – The Dragon Reborn
Margaret Owen – Little Thieves
Maggie Stiefvater – The Scorpio Races (re-read)
The big books won't leave me alone, it appears. I'm getting close to the end of Rhythm of War and while it's good (it's Sanderson, after all), I'm nowhere near as into it as I was with the first Stormlight books. I'm drawing out The Burning God because I know it will break my heart and I'm scared.
The third Wheel of Time book offers an interesting start but my motivation mostly stems from the TV show and the way it depicts the characters much more interestingly. I'm still planning to continue reading the books.
Margaret Owen's Little Thieves is the slightly less big (still 500+ pages) balm that my soul was yearning for. It's fun and quirky, the protagonist is morally gray but sympathetic and the world feels rich and original without losing its fairy tale inspiration. A third of the way through, I am loving it!
Another comfort read, or in this case, comfort listen, is Maggie Stiefvater's Scorpio Races which I've been wanting to revisit ever since I read it a few years ago. It's wonderful to be back with those killer horses on the island of Thisby.
Until next year (!): Stay safe, stay kind, and keep reading. 🙂